Periodic trends in the conductivities
by ashraf habil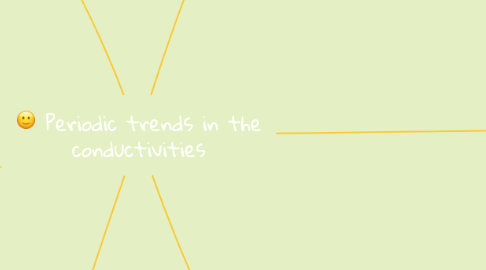 1. Has giant covalent bonding ( giant lattice structure similar to that of diomand
1.1. Silicon atom is covalently-bonded to four other silicon atoms in a tetrahedral arrangement. This extends in three dimensions to form a giant molecule or macromolecule
1.2. Silicon atom is covalently-bonded to four other silicon atoms in a tetrahedral arrangement. This extends in three dimensions to form a giant molecule or macromolecule
2. WHAT?
2.1. Electrical conductivity INCREASES going across period 3 from sodium to aluminium, then DECREASES to silicon. The remaining elements have negligible conductivity.
3. EXPLANATION
3.1. For an element to conduct electricity , it must contain electrons that are free to move.
3.1.1. Non metals:
3.1.2. Non metals:
3.1.2.1. Poor conductors of electricity
3.1.3. Metals:
3.1.3.1. A good conductors of electricity
4. METALS
4.1. SODIUM /MAGNESIUM/ ALUMINIUM
4.1.1. Have metallic bonding
4.1.2. Positive metal ions are attracted to delocalised electrons.
4.1.3. DELOCALISED ELECTRONS are free to move and carry CHARGE
4.1.4. Going from sodium to aluminium (Na -> Mg -> Al)
4.1.4.1. The number of delocalised electrons INCREASES
4.1.4.1.1. There are more electrons which can move and carry charge
4.1.4.2. Or the more velence electrons ,the higher electrical conductivity
5. METALLOID
5.1. An element with some of the properties of metals and some of the properties of non metals
5.2. Example : SILICON
5.2.1. Semiconductor
5.2.1.1. 1. 4 outer electrons in each atom are held strongly in COVALENT BONDS
5.2.1.2. 2. Few electrons have energy at room tempreture to enter the higher levels
5.2.1.3. 3. So there are few delocalised electrons and silicon is a poor conductor
5.2.1.4. 4. At higher temperature more electrons are promoted to the higher energy levels
5.2.1.5. 5. So there are more delocalised electrons to move and carry charge
6. NON METALS
6.1. Remaining elements in period 3 (phosphorus ;sulfur ; chlorine ; argon)
6.1.1. p , S ,Cl
6.1.1.1. Outer electrons are not free to move and carry charge because they are held stronly by covalent bonds
6.1.2. Ar
6.1.2.1. Single atoms
6.1.2.2. Outer electrons are not free to move and carry charge becaise they are held in A STABLE THIRD ENERGY LEVEL