Why Integrate Technology?
by Clayton Flegal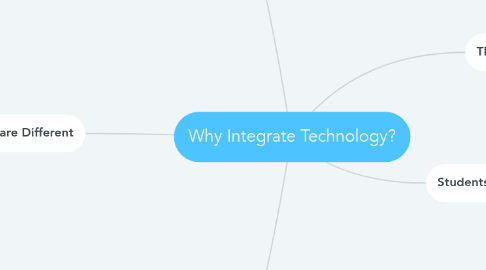 1. The World is Different
1.1. There is a ridiculous amount of online resources for students
1.1.1. Good and Bad (Factual or False)
1.2. Information is able to be attained very quickly from almost anywhere
1.3. The world is constantly globally connected through platforms such as social media and the news
2. Students are Different
2.1. Different Generation
2.1.1. Students are much more accustomed to being around technology from a very young age.
2.2. Students are better at multi-tasking due to all the technology that is at their fingertips
2.2.1. Students creativity is only growing and the only way to maximize that is through interaction
3. Teaching Should be Different
3.1. Books cannot keep up with the world as well as technology can
3.1.1. Books cannot be replaced and filled with new knowledge on the spot... technology can
3.1.1.1. This will provide for up-to-date and recent facts to ensure accuracy
3.2. Students want a more interactive experience when learning
3.2.1. If we do not evolve students will lose interest and we will fail to see improvemnet
4. Standards are Different
4.1. Ohio Learning Standards for Special Education (K-12)
4.1.1. Ohio Academic Content Standards
4.1.1.1. Social Studies
4.1.1.2. Science
4.1.1.3. Language Arts
4.1.1.4. Mathematics
4.2. ISTE Standards (Technology Students)
4.2.1. Students
4.2.1.1. Digital Citizen
4.2.1.2. CreativeCommunicator
4.2.2. Teachers
4.2.2.1. Leader
4.2.2.2. Facilitator
4.2.3. Ohio Standards for Technology
4.2.3.1. 1. Identify and use appropriate digital learning tools and resources to accomplish a defined task
4.2.3.2. 2. Use digital learning tools and resources to locate, evaluate, and use information
4.2.3.3. 3. Use digital learning tools and resources to construct knowledge
4.2.4. Cyberbullying
4.2.4.1. Meet Google Drive – One place for all your files
4.2.4.2. ISTE Standads for Students
4.2.4.2.1. ISTE Standard 2b
4.2.4.3. ISTE Standards for Educators
4.2.4.3.1. ISTE Standard 3a
4.2.4.4. Ohio Standards for Technology
4.2.4.4.1. "advocate and exhibit ethical, legal and responsible practices when utilizing technology"
4.3. Students need to be better prepared to use technology in the future
4.4. UDL Principles
4.4.1. Engagement
4.4.1.1. Recruiting Interest
4.4.1.2. Sustaining Effort and Persistence
4.4.1.3. Self Regulation
4.4.2. Representation
4.4.2.1. Perception
4.4.2.2. Language and Symbols
4.4.2.3. Comprehension
4.4.3. Action & Expression
4.4.3.1. Physical Action
4.4.3.2. Expression and Communication
4.4.3.3. Executive Functions
5. Skills are Different
5.1. Students are often already using technology even before they get in school
5.1.1. This will only continue with how technology is evolving
5.2. Students require more in-depth and interactive learning