POTENTIAL TITLES
by Abigail Hutchison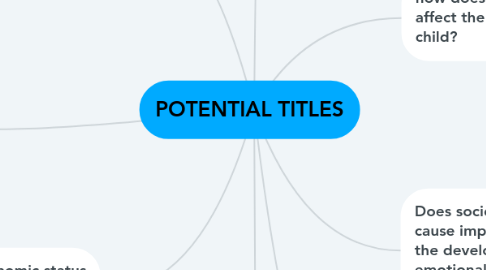 1. The influence of socioeconomic status on children's brain structure.
1.1. FOCUSES TOO MUCH ON SCIENTIFIC SIDE
2. how does socioeconomic status affect the development of a child?
2.1. would be able to carry out exciting primary research
2.2. too broad- where would I start ?
2.3. development is subjective and hard to measure
2.4. development can be measured in many different ways
3. How are cognitive domains affected by socio-economic status
3.1. should focus on a specific cognitive demain
3.2. have to look into exam success which is only a small factor
3.3. grades are concrete meaning easy to collect data
3.4. certain cognitive domains may be affected more than others
3.5. easy to collect research as it could be carried out in schools
4. How socio economic status affects early childhood development.
4.1. REJECTED BECAUSE ITS TOO BROAD
5. How socio-economic status affect a child's self esteem.
5.1. self esteem is subjective
5.2. people can lie about there self esteem
5.3. self esteem is a specific topic so easier to research
5.4. interesting to research
5.5. can interview specific people and use case studies
6. Does socio-economic status cause important differences in the development of cognitive, emotional and brain development in early childhood?
6.1. concentrating on 3 things will be too complex
6.2. a lot of data and articles to help my research
6.3. important differences is subjective to each person.
6.4. branches over a lot of subjects so hard to get the right mentor
6.5. early childhood data can be easily found through parent surveys.
7. Can boosting family income change children's characteristics for the better?
7.1. no way to know what they would have been like with or without the income
7.2. characteristics are an easy form of measurement
7.3. secondary research is more limited on this topic than it is on other titles
7.4. what characteristics would I measure
7.5. comparing children from different socio economic backgrounds is easy to do
8. does early childhood socio-economic status affect overall behavioural characteristics ?
8.1. behaviour is visible so easier to manage
8.2. should be more specific- social or economic?
8.3. specify what years you mean by early childhood
8.4. a lot of articles to support research
8.5. Primary research can be carried out in schools