Researchers are turning to Twitter to track immigrant migration
by Jose Daniel Rojas Rodríguez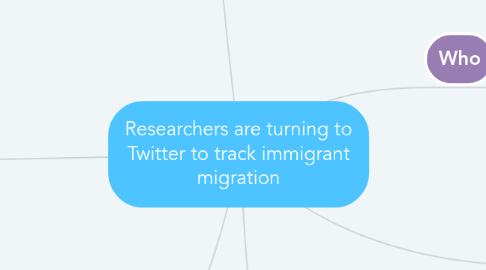 1. How
1.1. First: Analized thousands of tweets
1.2. Second: Pulling the information to determinate if is migrant or native
1.3. Example: If a user regularly tweets in German from an address in Philadelphia, the model would label the user as a German immigrant
2. Where
2.1. Around the world-except countries that don´t have Twitter.
3. Why
3.1. To go a cenus of the migration in the world
4. Problems
4.1. A problem is that in diferents countries don´t have twitter for example: China
4.2. Solution: Reseach in other social network that China can use
5. Who
5.1. the Institute for Cross-Disciplinary Physics and Complex Systems.
6. Research result
6.1. Researchers aggregated that data to identify 35 immigrant communities in 50 cities around the world.