Ethical Coffee: Strategies & Tactics Manifest
by Adam King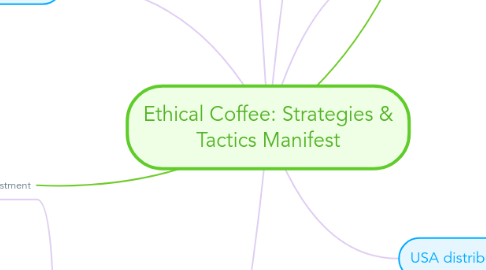 1. Sales strategies
1.1. Send samples and personally interact with coffee-loving online personalities
1.2. Trial delivery (like Tonx)
1.3. Discounts with referrals, sponsorships, and events
1.3.1. Personal referrals (Dropbox-esque)
1.3.2. Organizational referrals (fundraising for nonprofits, churches, schools -- no stigma like candy or chocolate has with obesity, if subscriptions provides a residual income for the org, added CSR element with transparent, farmer-helping/family-helping product.)
1.3.3. Sponsorships of podcasts
1.3.4. Bombing events with stickers and coffee
1.3.5. Getting people to set up their own events (tupperware party-esque) - provide easy tools, casual expectations, make it fun
1.3.6. Organize our own meetups in different cities
1.3.7. Online events -- farmer videocasts, member round-tables, casual Google hangouts
1.3.8. How else to build a community?
1.3.9. Discounts to orgs - referrals, make them money
1.3.10. Discounts and samples to media - podcasts, blogs
2. Potential capital sources
2.1. VC
2.1.1. William
2.1.2. Startup genome
2.2. Kickstarter
2.3. Friends
2.3.1. Pat
2.3.2. Members
2.3.3. Loans from friends
2.4. Gus
3. USA distribution
3.1. USA distribution should allow us several things:
3.1.1. 1. Cheaper shipping to US addresses
3.1.1.1. (And potentially cheaper to Canada also — could mean only needing one central distro depot.)
3.1.2. 2. Able to get blogs to cover us more easily in the tech/web sector
3.1.3. 3. Much broader population base for a product which appears to at least initially be more an early adopter stage product than anything
3.1.3.1. (Why do I say this? --
3.1.4. 4. Availability of Kickstarter (and purposefulness of Kickstarter makes more sense if we can send to US addresses affordably)
3.1.5. 5. Better rationale for US investment - angel or VC - if we're in US
4. Canadian distribution
5. Tactics
5.1. Investment
5.2. Tweaking brand
5.2.1. Initially: Remove "Chain" from name
5.2.1.1. Ethical Coffee
5.2.1.1.1. Optional - experiment with heavy co-op brand "Ethical Coffee Co-op" and really emphasize ownership and member engagement, might really fly well in certain niches
5.2.1.1.2. Pros:
5.2.1.1.3. Cons:
5.2.1.2. Help! Coffee
5.2.1.2.1. Probable - relaunch more story-oriented, less cerebral branded company as "Helphanded" with "Help! Coffee" as brand. Expandable to "Help! Tea", etc. down the line. More easily trademarkeable and individualized.
5.2.1.2.2. Instead of focusing on ethics and fairtrade-style rhetoric, focus on human stories, dramatic flair -- humanization and serialization of the farming family's story.
5.2.2. Shorten and focus animated video
5.2.3. Create more of a storyline for the farm online
5.2.3.1. Enable farm with direct social accounts with cameras
5.2.3.2. Have someone overseeing video series -- reality tv inspired take on dramatic happenings on the farm and in the local communities
5.2.3.3. Build system for duplicating on other farms
5.2.4. More member input into decisions we make
5.2.5. More concrete results and projects
5.3. Kickstarter
5.3.1. Way of pre-selling harvest and launching with more presence
6. Ways of selling
6.1. Our site
6.2. In person (Square)
6.3. Other marketplaces (Ethical Ocean, Amazon, possiblly occassional Groupon deals on longterm subs or extra stock?)
6.4. Stores -- consignment leads to regular deliveries