DEVELOPMENT OF ESP
by Sandra Bayona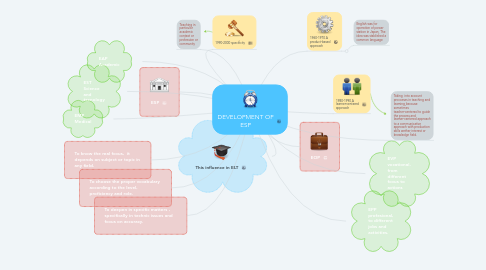 1. To know the real focus, it depends on subject or topic in any field.
2. To deepen in specific matters , specifically in technic issues and focus on accuracy.
3. To choose the proper vocabulary according to the level, proficiency and role.
4. EMP Medical
5. EST Science and tecnology
6. EAP Academic
7. EVP vocational, from different focus to actions
8. EPP profesional, to different jobs and activities.
9. Taking into account procceses in teaching and learning,because sometimes teacher-centered to guide the process and learner-centered approach to a communicative approach with production skills wether interest or knowledge field.
10. Teaching in particular academic context or profession or community
11. 1960-1970 A product-based approach
11.1. English was for operation of power station in Japan, The idea was stablished a common language
12. 1980-1990 A learner-centered approach
13. 1990-2000 specificity
14. ESP
15. EOP
16. This influence in ELT