To what extent does the Lantau tomorrow vision brings more benefits to the quality of life of Hong Kong citizens?
by Harry Yung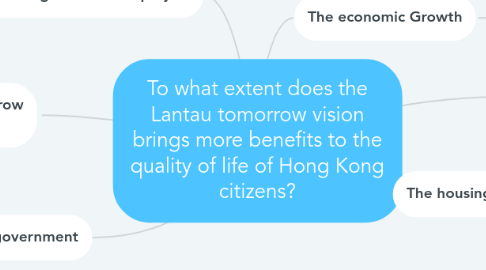 1. Hong Kong citizens
1.1. The housing and space they have
1.1.1. Will the government offer the public housing to Hong Kong citizen in Lantau Tomorrow Vision.
1.1.1.1. The price for the public housing in Lantau Tomorrow Vision
2. The housing problem
2.1. Will the Lantau Tomorrow Vision helps solve this problem
2.1.1. The amount of public housing for Hong Kong citizens
2.1.1.1. The waiting for public housing is too long for Hong Kong citizen
2.2. Land shortage is the major reason that lead to this project
2.2.1. It will create 1700 hectares of new island or less?
2.2.1.1. Is it enough for Hong Kong citizen and the foreigners or from the Mainland
3. The government
3.1. Could the government help improve Hong Kong citizen quality of life
3.1.1. The efficiency of the government to finish the project
3.1.1.1. The effect that brings to the Hong Kong citizen
3.2. Could the government solve the current issue of housing problem
3.2.1. They believe that it could be a possible solution to Hong Kong citizen to solve the lack of housing problem
4. The cost for Lantau Tomorrow Vision
4.1. The Cost for the project is at least HK$624 billion
4.1.1. would it be cost overruns for more than HK $ 1 trillion
4.1.1.1. Could the government bear the cost of this huge amount of money
4.2. Would the government use up all the public coffers
4.2.1. The cost is very expensive for an artificial island
5. The economic Growth
5.1. The economic growth by bringing more spaces for companies to set up office in the area
5.1.1. The international image can be increased and help boost the economy.
5.1.1.1. The job opportunity and valuable employment
6. The damage due to the project
6.1. The environmental pollutuon
6.1.1. The air pollution during the project
6.1.1.1. The sound pollution to the residents of Lantau island
6.2. The potential damage to the marine life in the future
6.2.1. The damage caused by the project will cause unnecessary loss of marine life
6.2.1.1. It will also narrow the size of the sea channel
6.2.1.1.1. It will cause huge damage when typhoon hits
6.3. The living of fisherman would be destroyed
6.3.1. The fish will no longer live around Lantau