STRATEGIC PLANNING IN THE CONTEXT OF WCED'S VISION AND VALUES
by Abdul Haleem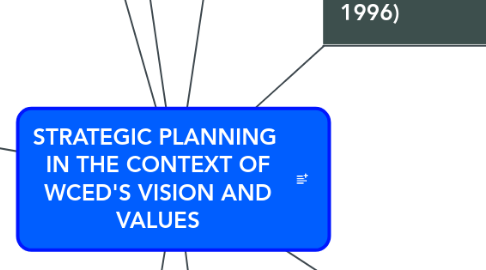 1. HR Processes
1.1. What is the current status of Edu. Plan.'s staff - The progress/observations made in terms of annual/bi-annual performance reports. Understanding individual roles within the WCED's mandate.
1.2. In terms of competence, is the right blend of professionals employed? (i.e. What is a Town Planner's role within the WCED context?).
2. Technological Applications (Data driven, evidence based approach)
2.1. Work towards creating an automated transport schedule system. A MyCiTi approach to obtaining specific data. schoolstransport.com - STAR
2.2. Live Dashboard reporting on the everyday questions we ask. Observations made thus far: Everyone has a different answer.
2.3. Drones: Utilising Drone footage with regards to land invasions, pedestrian movement of learners.
2.4. Quarterly or Bi-annual online LEARNER surveys of the teaching approaches in the school. Schools are also accountable for a learner's future. This could be our link with the learner.
3. Develop various partnerships to the benefit of the learner
3.1. Municipalities: What are the key spatial objectives/visions of each municipality. Where can we assist each other in achieving common goals. Getting local and provincial spheres conveying the same message to the communities (Obtaining support from communities).
3.2. Motor Industries (and others): Understanding the flavour of technical schools across the province. I'm picturing a BMW technician showing kids how to diagnose a car. Allowing learners to do a diagnostic test as "home work" or an "assignment"
3.3. Private Schools: Establishing partners with neighbouring ECD centres. Understanding where Grade Rs should be accommodated
3.4. Internal Departments: A big challenge currently where specific departments are operating "solo" and in other instances certain departments are assisting WCED.
3.5. Directorates: This should be NUMBER 1 on our list. Getting all our Chief Directorates on a single understanding
3.6. Fives Futbol: How can we establish a partnership with Fives in providing low maintenance soccer and cricket pitches (Gary Kirsten Foundation powered by Fives). This ties back to utilizing land effectively and efficiently. Lets test this by doing a poll for learners - Would you prefer an astro fives futbol turf or a conventional soccer pitch? We can do the same for netball etc.)
4. Social Investment Return within a Monitoring and Evaluation system
4.1. For example, we should be able to measure our investment in relation to our findings of the "Hotspot Analysis" (i.e. Has education uplifted the youth within the community). If yes, we should be able to say how - Through better results, sporting achievements etc.
4.2. Linking the above with the technological approaches in creating a monitoring and evaluation system.
4.3. Using sport as a lever in empowering learners and creating discipline.
5. Addressing Backlog (Programme Approach)
5.1. Dedicated team used to drive future planning
5.1.1. E.g. Hotspot analysis: Understanding the strengths & weakness within each community across the province. How does Education look in 2040 etc.
5.2. Dedicated team addressing the current backlog
5.2.1. Currently faced with various historic challenges inhibiting projects from moving forward (i.e. Zeekoevlei HS replacement project)
6. Legislative limitations (SASA, 1996)
6.1. Too much power granted to schools and their SGB when it comes to enrolment and land. This is the ultimate root cause of WCED's daily challenges
6.1.1. Land: We need to re-think (from now onwards) how we instruct DTPW in allocating land to schools. We have adequate, well located land which is not being utilised by schools. There is currently no appetite for schools to relinquish unused land.
6.1.1.1. Currently, only the MEC may take land back from a school. We should pursue this, especially where schools have no intent/plans of developing any underutilized land allocated to them
6.1.2. Enrolment: We have the chicken and egg situation which influences the QUALITY of education at our schools. Some schools accepts more learners annually (beyond the 40 per classroom ratio). But there are also schools accepting learners below the maximum capacity (25 per class room).
6.1.2.1. We need to review our existing school infrastructure and tag it with a maximum capacity enrolment figure. We should also tag it with a minimum total as well to avoid vastly underutilised schools. This logic needs to tie back to performance. Is it a fact that the well performing schools (above 70% pass rate) are the ones ones which have lower enrolment? The min/max of a school will fluctuate and needs to be maintained using online technologies. This applies to keeping a sound record of educators as well.
6.2. Incentivise schools to work with each other within XX proximity to enhance the access and quality of education. OR evaluate the total infrastructure spend over the years in relation to performance. If a school has not shown progress over the years, then don't invest from an infrastructure perspective (i.e. more mobiles, additional class rooms etc.)
7. Vetting a project before it gets on the budget
7.1. Before a project lands on he budget, have we done the necessary checks and balances to ensure that the correct investment is being made and do we have a risk plan in place?
7.2. We need a better grip and record of maintenance rolled out at our schools. E.g. Ensuring that WCED does not repair a particular component on an annual basis. Each school must report back in terms of maintenance. To avoid various formats and templates, Infra Plan should develop a simple, easy to interpret maintenance questionanire which schools should report back on. This needs to be done online
8. Safety at Schools
8.1. Do any of our schools have safety measures in place if any event were to take place. Are the learners aware of such plans.
8.2. Understanding what types of safety measure are required based on social context
8.3. Reflecting on partnering, how can municipalities law enforcement assist in keeping our schools safe.