CURRICULUM?
by Ma riel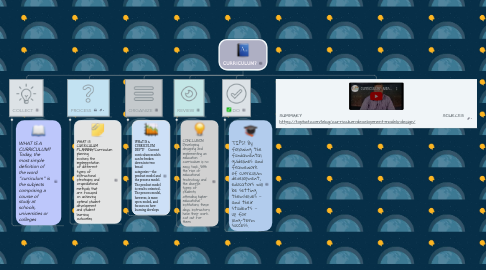 1. COLLECT
1.1. WHAT IS A CURRICULUM? Today, the most simple definition of the word "curriculum" is the subjects comprising a course of study at schools, universities or colleges
2. DO
2.1. TIPS? By following the fundamental guidelines and framework of curriculum development, educators will be setting themselves — and their students — up for long-term success.
3. ORGANIZE
3.1. WHAT IS A CURRICULUM DEV'T? Current curriculum models can be broken down into two broad categories—the product model and the process model. The product model is results-oriented. The process model, however, is more open-ended, and focuses on how learning develops
4. REVIEW
4.1. CONCLUSION Developing, designing and implementing an education curriculum is no easy task. With the rise of educational technology and the diverse types of students attending higher educational institutions these days, instructors have their work cut out for them.
5. PROCESS
5.1. WHAT IS CURRICULUM PLANNING?Curriculum planning involves the implementation of different types of instructional strategies and organizational methods that are focused on achieving optimal student development and student learning outcomes
6. SUMMARY SOURCES https://tophat.com/blog/curriculum-development-models-design/