CHAPTER 4:CURRENT TRENDS IN COMMUNICATIVE LANGUAGE TEACHING
by Adriana Leon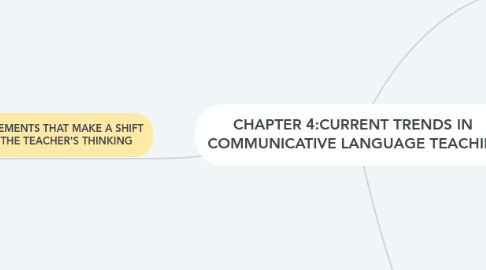 1. DEFINITION
1.1. Nowadays conmmunicative language teaching is defined as principles that can be applied by differnt ways according to the characteristics of the learners
1.1.1. TEN CORE ASSUMPTIONS OF CURRENT COMMUNICATIVE LANGUAGE TEACHING
1.1.1.1. Interaction and meaninful communication facilititates the second language learning
1.1.1.2. Exercises that provide the opportunity to practice the language through the interaction are helpful
1.1.1.3. Meaningful communication occurs when in the communication there is information that is interesting and engaging for the learner
1.1.1.4. Communication is a holistic process
1.1.1.5. Language learning is facilitated when the learner has the opportunity to induce and discover the language elements
1.1.1.6. Language learning is a gradual process where errors are natural and a normal element during this process
1.1.1.7. Each learner has his own motivation,desires and way of learning
1.1.1.8. Successful language learning involves the use of effective learning and communication strate
1.1.1.9. The teacher is a facilitator who provides the opportunity to the students to reflect about the language
1.1.1.10. The classroom has an environment of collaboration and sharing
2. TYPICAL CHARACTERISTICS OF CLASSROOM ACTIVITIES
2.1. The activities aims to the develop of the communicative competence where the grammar isn't the central point.Grammar is worked with the communicative activities
2.2. There is a continous need for communication between the participants
2.3. Learning grammar is learnt by both the deductive and inductive way
2.4. There is a connection between the student's live and interests
2.5. Students can personalize their learning according with what they have learnt in their own lives
2.6. Texts provided are authentic and atractive for the learner
3. ELEMENTS THAT MAKE A SHIFT IN THE TEACHER'S THINKING
3.1. The following are key elements that Jacobs and Farrell (2003) proposed as elements that change the way of teacher's thinking
3.1.1. There is a greater atention in the student role instead of focusing in the teacher role
3.1.1.1. It is called a shift from the "teacher-centered instruction" to the "learner-centered instruction!
3.1.2. The focus is in the learning process not in the product that learners produce
3.1.2.1. It is called a move from product-oriented to process-oriented instruction
3.1.3. Differences between learner are not seen as boundaries in the learning process; they are resources that must be recognized and appreciated
3.1.3.1. It is known as the "study of individual differences"
3.1.4. When researching or constructing theory-building there is a bigger attention on the views in the internal classroom
3.1.4.1. It makes part of qualitative research where there is subjective and affective approach
3.1.5. There is a promotion of the holistic learning putting real situations in the classroom
3.1.6. Helping to the students to discover the purpose of the learning process and so on they can construct their own purpose
3.1.7. There is an approach of moving from the general to the particular, making relationships between those elements
3.1.7.1. There is a movement from the Whole-to-part orientation to a part-to-whole approach
3.1.8. There is a greater importance of meaning
3.1.9. Learning is seen as a life-long process not as a momentary process
3.1.9.1. EIGHT MAJOR CHANGES IN APPROACHES TO LANGUAGE TEACHING.
3.1.9.1.1. According to Jacobs and farell theelements that change the way of teacher's thinking led to eight major changes in approaches to language teaching