MEDIA BY CRYSTAL JOY C. TABAT 11 HUMSS A
by Crys Callano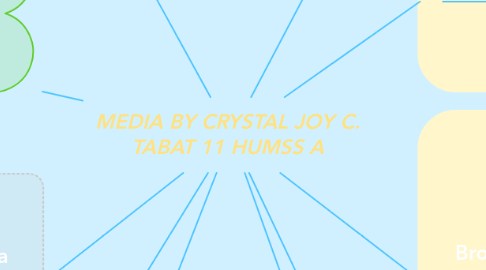 1. Media plays an important role in our lives as we cannot envisage a life without the daily reporting of national, regional and international news
2. It refers to mass media such as broadcast media, print media and web media.
3. Media is an important source of information through its news segments, entertainment and allows for exchange of ideas, suggestions and comments.
4. Positive effect of Media
4.1. 1. Social Media Makes It Easier to Make Friends. 2.Social Media Fosters Empathy. 3. Social Media Allows for Speedy Communication. 4. Social Media Makes the World Seem Smaller.
5. Web media.
5.1. Web media is the textual, audio and visual forms of communication presented on the web. Web media can include graphics, photos, videos and interactivity with the user.
5.1.1. Internet news
6. Broadcast media
6.1. The term 'broadcast media' covers a wide spectrum of different communication methods. It provides valuable information (ex. speeches, documentaries, interviews, advertisements, daily news, financial markets and much more.
6.1.1. Television and radio
7. Printed media
7.1. The term 'print media' is used to describe the traditional or "old-fashioned" printed-based media that today's parent grew up with.
7.1.1. Newspapers, magazines, books, and comics or graphic novels.
8. TYPES OF MEDIA
9. Negative Effect of Media
9.1. Unhealthy Lifestyle, Information Overload, Media Addiction and Health Problems
10. Social Media
10.1. Is a collective of online communications channels dedicated to community-based input, interaction, content-sharing and collaboration.
10.1.1. Ex. Facebook, twitter and google