9/23: How Do We Design for Learning?
by Amelia Auchstetter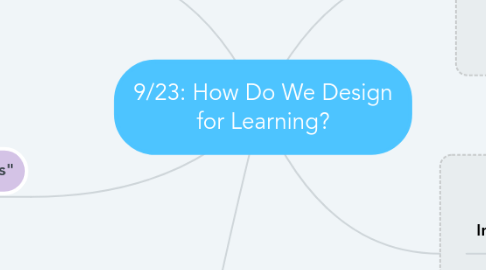 1. Remember who you are designing for
1.1. Focus on audience and their learning
1.2. Avoid tutor-centric model
2. Use of backwards design
2.1. Knowledge vs understanding
2.2. Think about output first
2.3. Keep documentation of what works (and doesn't)
2.4. Technology redefining teaching and learning
2.5. Challenges in age of testing
3. The "twin sins"
3.1. Activity-based design
3.1.1. Focus is on creating a fun lesson
3.1.2. Need to keep activity intellectually focused on important idea
3.2. Coverage-based design
3.2.1. Focus is on covering an amount of information
3.2.2. Need to remember learning goals
3.2.3. Government policy and breadth of learning standards
3.2.4. Doesn't equate to deep learning
4. Informal learning
4.1. Life-long learning
4.2. Learn from others' experiences
4.3. Keeps you current and on top of things
4.4. Tensions and vulnerabilities may get in the way
4.5. More research needed about specific types of learning
5. Instructional design frameworks
5.1. Relevancy today
5.2. Applicable to other education settings
5.3. Experience level of designers