FREEDOM BY MARY GRACE JOY VIOLA 11 HUMSS A
by Crys Callano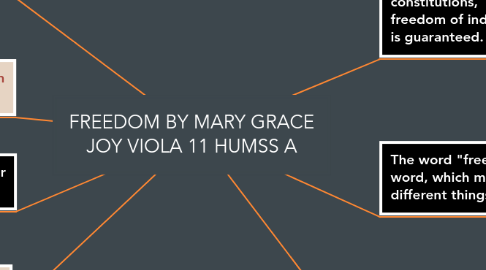 1. Is a privilege that every person living in a democratic country is proud to possess, and in many constitutions, freedom of individual is guaranteed.
2. The word "freedom" is a general word, which means three different things.
2.1. Freedom of speech, Freedom of the person and Freedom of Assembly.
2.1.1. Freedom of the person-right to liberty and security,
2.1.2. Freedom of speech-the right to express opinions without government restraint
2.2. Freedom of Assembly- The right to hold public meetings and form associations without interference by the government
3. Why is freedom is important?
3.1. Freedom is important because it leads to enhanced expressions of creativity and original thought, increased productivity, and an overall high quality of life.
4. Importance of freedom in humanities developing
4.1. Human development is the most important factor of welfare improvement where the freedom is an essential instrument to achieve it.
5. the condition of being free or freed
6. "Freedom is destroyed not only by its retraction; it is also devastated by its abuse."
7. FREEDOM OF EXPRESSION
7.1. Freedom of speech, of the press, of association, of assembly and petition -- this set of guarantees, protected by the First Amendment, comprises what we refer to as freedom of expression