Time Management
by Vanessa Williams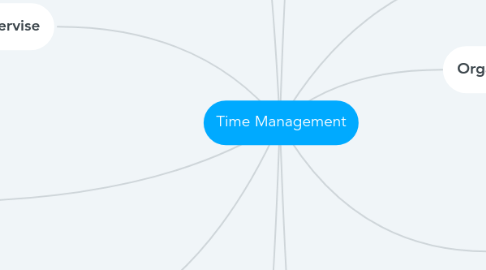 1. Communication
1.1. Communicating effectively with your team
1.2. Task Management
1.3. Checklist
1.4. Goals
1.5. Comprehension
2. Work Life Balance
2.1. Well being
2.2. Healthy Lifestyle
2.3. Family
3. Priortize
3.1. Company Goals
3.2. Environment Goals
3.3. Team Goals
3.4. Creating Set Goals
4. Supervise
4.1. Help
4.2. Encourage
4.2.1. Employee engagement improves moral and employee performance evaluations. Encouraging, directing, and showing care brings employees together to work as a team.
4.3. Quality
5. Planning
5.1. Meetings
5.2. Routine Task
5.3. Deadlines
6. Organization
6.1. Communication Channels
6.2. Organize workplace
7. Attitude
7.1. Flexibility
7.2. Performance
7.2.1. Valuing our jobs brings structure into a work place. Having goals and giving orders shows employee relations. Motivating employees brings good attitude.
7.3. Values & Goals
8. Team Work
8.1. Motivation
8.2. Healthy & Safe Workplace
8.3. Positivity
9. Disadvantages
9.1. Unsuccessful work environment
9.2. Mismanagement
9.3. Can't Say No
9.4. Being either disconnected, non-communicative or unreliable can bring a unhealthy work establishment and lack of managing. Higher turnover, recuiting, low employee moral and engagement.
10. Advantages
10.1. Implementing and creating the culture values to establish a healthy work place for the company and your own personnel goals; lifestyle.
10.2. Achieving your goals, ethics and moral