Oral Language Activities During My K-12 Experience
by Adriana Martin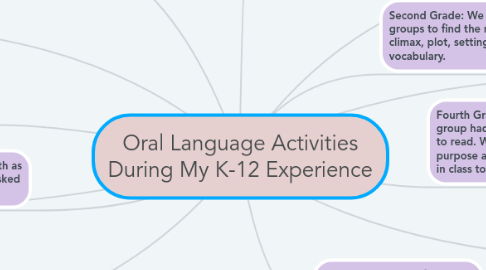 1. Kindergarten: Singing the ABC's, sing songs
2. First Grade: Share with the class what we think will happen next in the story
3. Second Grade: We worked in groups to find the main idea, climax, plot, setting, & new vocabulary.
4. Third Grade: Read plays in groups, then perform for the whole class.
5. Fourth Grade: Each week every group had a different short story to read. We focused on author's purpose and plot. We presented in class to share our ideas.
6. Fifth Grade: Read chapter groups aloud by popcorn reading.
7. Sixth Grade: A lot of our work was independent work.
8. seventh grade: My reading teacher gave us a lot of independent reading. My English teacher had more active activites that required us to talk and present.
9. eight grade: We read Macbeth as a class. Each class we were asked to sign up for a role to read.
10. ninth grade: We had two speeches and one group presentation.
11. Tenth Grade: Three Speeches, charades to learn vocabulary, class discussions on the novel we were reading.
12. eleventh grade: four group presentations, two speeches, debates and class discussions
13. twelfth grade: 4 group presentations, two speeches, debates and class discussions, create a Jazz song