importance of visual arts in society based on the Pontifical Xavierian University program
by Vanessa Feijoo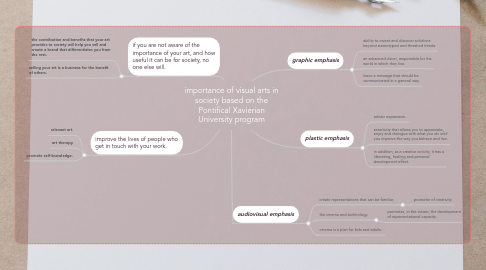 1. if you are not aware of the importance of your art, and how useful it can be for society, no one else will.
1.1. the contribution and benefits that your art provides to society will help you sell and create a brand that differentiates you from the rest.
1.2. selling your art is a business for the benefit of others.
2. graphic emphasis
2.1. ability to invent and discover solutions beyond stereotyped and threshed trends.
2.2. an advanced vision, responsible for the world in which they live.
2.3. leave a message that should be communicated in a general way.
3. plastic emphasis
3.1. artistic expression.
3.2. sensitivity that allows you to appreciate, enjoy and dialogue with what you do until you improve the way you behave and live.
3.3. in addition, as a creative activity, it has a liberating, healing and personal development effect.
4. audiovisual emphasis
4.1. create representations that can be familiar.
4.1.1. promoter of creativity.
4.2. the cinema and technology.
4.2.1. promotes, in the viewer, the development of representational capacity.
4.3. cinema is a plan for kids and adults.
5. improve the lives of people who get in touch with your work.
5.1. relevant art.
5.2. art therapy.
5.3. promote self-knowledge.