Business Name : Pretty Please by Pooja
by Pooja Prahlad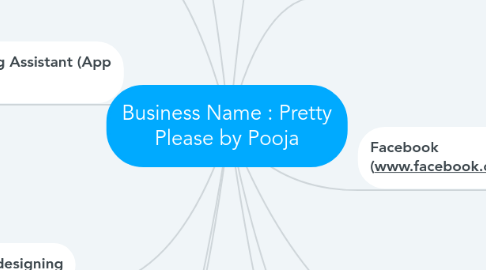 1. Website (www.prettypleasebypooja.com)
1.1. Objectives : Sales, Branding, Online Subscription Boxes, Online Stylist, Online trials, Video chat shopping
1.2. Marketing tools used : Google Ads, Display Ads, Re-marketing, PPC, SEO, SEM, Newsletters, Blogs, Video Marketing (content marketing that will be used cross all platforms), analytics
2. Facebook (www.facebook.com/PrettyPleaseByPooja/)
2.1. Objective : Promotion, Brand Awarenesss and building, sales, outreach
2.2. Tools : Sponsored post, Live videos, watch party, interactive post, polls, tags, groups, facebook shop, product photography, editing, videography, post editing, community building
3. Instagram (www.instagram.com/prettypleasebypooja/)
3.1. Objectives : Brand building and management, outreach, sales,
3.2. Marketing tools : Sponsored post, sponsored stories, Influencer marketing, affiliate marketing, page promotion, Instagram Loops, reposts, Instagram shop, product photography, editing, videography, post editing
4. Retailing (in store)
4.1. Objectives : Drive Sales, Brand Visibility, Expand market, Strategic Partnerships
4.2. Tools :Supply chain management, in store display
5. Wholesaling
5.1. Objective : B2B Marketing
5.2. Tools : In person meets, supply chain management
6. Personal Styling Assistant (App and on ground)
6.1. Objective : Business line expansion
6.2. Tools : AI led apps/ softwares (futuristic plan), ATL, BTL, Exhibitions, Word of mouth
7. Custom designing
7.1. Objective : Business line expansion
7.2. Tools : Onlne questionnaire (google form) to fill in measurements, fabrics available online, this will collaborate with the personal styling assistant app, systems speak to each other and a design is rolled out in the fabric of their choice which is suggested
8. Third party platforms (Marketplaces)
8.1. Objective : Drive sales
8.2. Platforms : Flipkart, Amazon, Snapdeal, Meesho, SEO
9. Subscription Boxes
9.1. Objective : Business line expansion, ensure consistent sales and customers who are loyal
9.2. Tools : Questionnaires, Virtual styling app (futuristic)
10. CRM tool
10.1. Customer database management, Email marketing, marketing and analytics integrated with website, Social Media channels etc.
11. Youtube
11.1. Objective : Original content videos, brand building, drive sales
11.2. Tools: Live videos, Original content, Viral videos, Short films, blogger takeover, blogger videos
12. Others
12.1. Twitter, Pinterest, LinkedIn (B2B)