BIG THINKER: Katie Salen
by Taylor Staton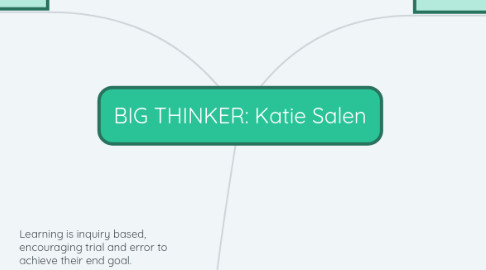 1. Effects on Learning
1.1. Quest to Learn's focus on game design allows students to think deeper and more abstractly.
1.2. Students learn to collaborate through sharing their specific expertise with others and co-building together.
1.3. The challenges incentivize students to learn, driving them to get better and improve their skills.
1.4. Students are exposed to multiple modalities, reading and encountering texts on various mediums.
2. Quest to Learn
2.1. A school that believes digital media plays an important role in students learning, using the tagline "School For Digital Kids".
2.2. Students complete a series of small challenges over a ten-week period.
2.3. These small challenges help students solve a more complex challenge by the end of the ten weeks called a mission.
2.4. The school aims to help students understand how to be in charge of their own learning, adapt, and expand their knowledge across their whole life.
3. Game Based Learning
3.1. Learning is inquiry based, encouraging trial and error to achieve their end goal.
3.2. The curriculum builds on the common online game structure of missions and quests.
3.3. Quests get harder as you move along and you cannot move on until the quest is completed.
3.4. The format allows students to develop tools, knowledge, and experience with each quest that will help with the end mission.