Lily Donosky - "There is a sharp line between describing something and offering an explanation of it." To what extent do you agree with this claim?
by Lily DONOSKY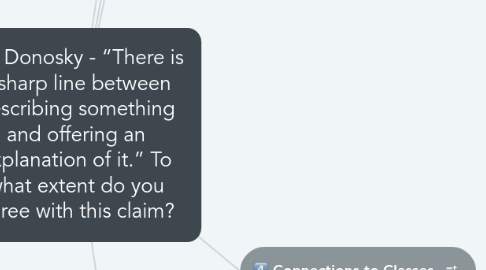 1. Keywords
1.1. describing
1.1.1. giving a detailed account
1.1.2. to outline something
1.2. offering
1.2.1. suggesting
1.2.2. giving a possible
1.3. explanation
1.3.1. making something clear
1.3.2. giving reason or justification
1.3.2.1. offering WHY
2. Key Phrases
2.1. sharp line
2.1.1. clear difference
2.1.2. clear divide
2.1.3. clear contrast
3. Rewrite
3.1. "there is a clear difference between outlining something and suggesting a possible reason for it."
4. Rewrite
4.1. (NS) there is a close connection between describing the observations of an experiment and suggesting a reason for it.
4.2. (Art) there is blurred line between describing a visual art piece and giving an explanation for it.
4.3. (HS) Subject 3 ** unsure
5. Connections to Classes
5.1. biology/ chemistry
5.1.1. Natural Sciences
5.1.2. the addition of iodine indicator to a starch-containing substance to give a blue-black colour
5.1.2.1. the use of models as a means of describing something which allows for a better explanation of it
5.1.2.1.1. sense perception
5.1.2.1.2. methodology
5.1.2.2. ability to predict explanations based off of descriptions
5.1.2.2.1. intuition
5.1.2.2.2. scope/ application
5.2. visual art
5.2.1. The Arts
5.2.2. understanding Picasso's abstract art (e.g. Weeping Woman)
5.2.2.1. describing the superficial physical aesthetic of the art doesn't allow one to get to the meaning - be able to explain - of the art
5.2.2.1.1. imagination
5.2.2.1.2. methodology
5.2.2.2. visual art often conveys its message through a nonverbal means.
5.2.2.2.1. language
5.2.2.2.2. concepts/ language
5.3. history
5.3.1. History
5.3.2. description/ analysis of a historical event, e.g. Cold War
5.3.2.1. describing a historical event, what exactly happened, it is not necessarily clear the cause of the event
5.3.2.1.1. language
5.3.2.1.2. methodology
5.3.2.2. describing the actions of the person whose behaviour is being observed doesn't necessarily offer an explanation of their mental state
5.3.2.2.1. intuition
5.3.2.2.2. personal/ shared knowledge
5.4. psychology ** not sure about this idea???
5.4.1. Human Sciences
5.4.2. diagnosing mental illness (e.g. ADHD)
5.4.2.1. through experiment, being able to directly observe one's behaviour allows for descriptions to be made which can allow for a better explanation
5.4.2.1.1. sense perception
5.4.2.1.2. methodology
5.4.2.2. describing the actions of the person whose behaviour is being observed doesn't necessarily offer an explanation of their mental state
5.4.2.2.1. intuition
5.4.2.2.2. personal/ shared knowledge