FOUNDATION AND DEVELOPMENT OF THE FINANCIAL SYSTEM
by natalia ruiz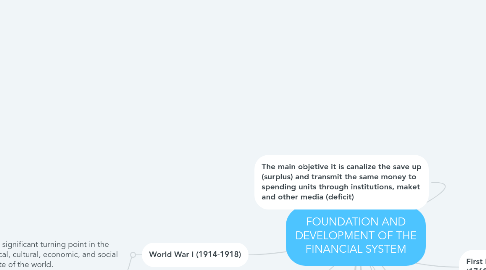 1. The financial system allows a means of risk management in the economy, provides a payment system and assign a price to financial resources
1.1. The Mision is to improve the quality of life of human beings by increasing GDP
2. Financial superintendence
3. Ministry of Finance and Public Credit
4. Central Bank
5. congress
6. Finance system
6.1. Risk managemen
6.2. payment system
6.3. Assignment of prices to financial resources
6.4. the main objetive is improving the
7. as a result it is created the IMF in 1945
7.1. The major role is to promote international monetary cooperation. To facilitate the expansion and balanced growth of international trade.
8. (1945) In Bretton Woods were signed the resolutions that established the new world economic order. source of capitalist societies
9. The main objetive it is canalize the save up (surplus) and transmit the same money to spending units through institutions, maket and other media (deficit)
10. First Industrial Revolution (1760-1840)
10.1. was the transition to new manufacturing processes in Europe and the United States.
11. World War I (1914-1918)
11.1. was a significant turning point in the political, cultural, economic, and social climate of the world.
12. Second Industrial Revolution (1850-1914)
12.1. Advancements in manufacturing and production technology enabled the widespread adoption of technological systems
13. World War II (1939-1945
13.1. changed the political alignment and social structure of the globe