EPISTEMOLOGY
by PT D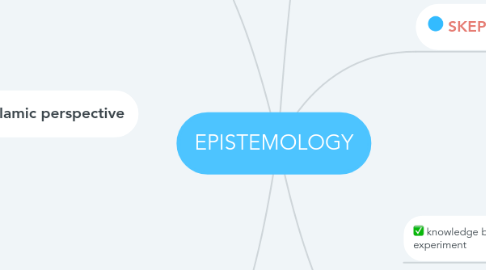 1. Problem of finding a modification of, or an alternative to, the standard analysis of knowledge that sidesteps problems from Gettier-style counterexamples.
2. knowledge based on reason/logic
3. knowledge based on experience and experiment
4. knowledge in fact human know nothing and cannot know anything
5. RATIONALISM
5.1. analytic statements
6. EMPERICISM
6.1. positivism (pure empiricism)
6.2. senses (justify)
6.3. facts must be observable and testable
6.4. synthetic statements
7. SKEPTICISM
7.1. knowledge-skepticism
7.1.1. no one knows anything,
7.2. justification-skepticism
7.2.1. no one is even justified in believing anything.
8. islamic perspective
8.1. AlGhazali
8.1.1. menganggap falsafah yang berasaskan falsafah Yunani itu sebagai sesat
8.1.1.1. Tahafut al-Falasifah Al-Ghazali (Kekacauan Ahli Falsafah)
8.1.1.2. Al-Munqidh Min al-Dalal (Pembendung Kesesatan)
8.2. AlFarabi
8.3. Ibnu Sina
8.4. M. Saeed Sheikh; falsafah muslim
8.5. Alparslan: konsep falsafah Islam
9. Epistemic Justification
9.1. Modest foundationalists
9.1.1. 1) self-justification
9.1.2. 2) justification by nonbelief, nonpropositional experiences
9.1.3. 3) justification by a reliable nonbelief origin of a belief
10. Gettier Problem
10.1. Edmund Gettier