What do you think about some ideas that Thai students should go to study abroad for tertiary education?
by Mickey Jitchanok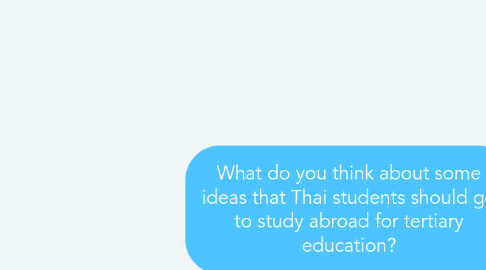 1. Introduction
1.1. Orientation
1.2. Statement of issue
1.3. Preview
2. Body
2.1. Cost
2.1.1. Against
2.1.1.1. Studying abroad required a lot of money.
2.1.2. For
2.1.2.1. Students can work for their tuition cost.
2.2. Have a problem with adaptation
2.2.1. Against
2.2.1.1. Some students have a homesick.
2.2.2. For
2.2.2.1. Worldwide communication benefit student who pass this moment they will have a good adaptability so they can work everywhere around the world.
2.3. Time
2.3.1. Against
2.3.1.1. The students who go to study abroad should drop from their domestic university for 1 or 2 semesters so studying abroad is waste student time.
2.3.2. For
2.3.2.1. Experiences that the students get from studying abroad is enough for the time they lost.
3. Conclusion