COMPOSITES
by Brittany Neer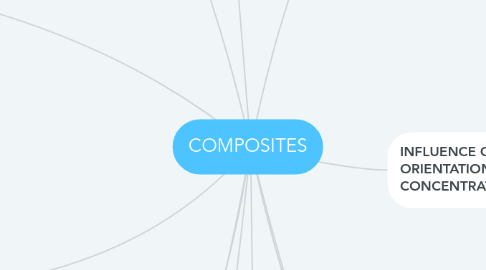 1. INTRODUCTION
1.1. Composites are artificially produced with desirable combinations of the best properties.
1.2. There are two types of phases - matrix, which is continuous and surrounds the other phase, dispersed phase.
1.3. There are four classifications of composites: particle-reinforced, fiber-reinforced, structural, and nanocomposites.
2. DISPERSION-STRENGTHENED COMPOSITES
2.1. Dispersion-strengthened composites fall within the particle-reinforced classification.
2.2. Improved strength is achieved by extremely small particles of the dispersed phase, which inhibit dislocation motion.
2.3. For large-particle composites, what does the upper and lower elastic modulus depends on the moduli and volume fractions of matrix and particulate phases.
2.4. The equations for upper and lower elastic modulus values are as follows: Ec(u) = EmVm + EpVp and Ec(l) = EmEp / (VmEp + VpEm); where E and V denote the elastic modulus and volume fraction, respectively and the subscripts c, m, and p represent composite, matrix and particulate phases, respectively.
2.5. Concrete, a type pf large-particle composite, consists of an aggregate of particles bonded together with cement.
2.6. Portland cement concrete has an aggregate of particles, namely sand and gravel, that bond with cement.
2.7. Chemical reactions between Portland cement and water cause a cementitious bond.
3. INFLUENCE OF FIBER LENGTH
3.1. With fiber-reinforced composites, an applied load is transmitted to and distributed among the fibers via the matrix phase, which in most cases is at least moderately ductile.
3.2. For fiber-reinforced composites, reinforcement discontinues at the fiber extremities.
3.3. Reinforcement efficiency depends on fiber length.
3.4. For each fiber-matrix combination, there exists some critical length (lc), which depends on fiber diameter and strength and fiber-matrix bond strength according to the following equation: lc = (sigma* x d) / (2 x tau), where d is equal to the fiber diameter, sigma* is equal to ultimate strength and tau is equal to the fiber matrix bond strength or shear yield strength (whichever is smaller).
3.5. The length of continuous fibers greatly exceeds this critical value (ie. l > 15lc), whereas shorter fibers are discontinuous.
4. INFLUENCE OF FIBER ORIENTATION AND CONCENTRATION
4.1. On the basis of fiber length and orientation, there are three different types of fiber-reinforced composites are possible.
4.1.1. 1) Continuous and aligned: mechanical properties are highly anisotropic. In the alignment direction, reinforcement and strength are a maximum; perpendicular to the alignment, they are minimum.
4.1.2. 2) Discontinuous and aligned: significant strengths and stiffness are possible in the longitudinal direction.
4.1.3. 3) Discontinuous and randomly orientated: despite some limitations on reinforcement efficiency, properties are isotropic.
4.2. For continuous and aligned composites , rule-of-mixtures expressions for the modulus in both longitudinal and transverse orientations were developed: Ecl = EmVm + EfVf or Ecl = Em(1 - Vf) + EfVf, as well as Ect = EmEf / [(1 - Vf)Ef + VfEm].
4.2.1. In addition, an equation for longitudinal strength was also cited - sigma(cl) = sigma(m)'(1 - Vf) + (sigma(f)* x Vf).
4.3. For discontinuous and aligned composites, composite strength equations were presented for two different situations
4.3.1. 1) When l > lc, sigma(cd)* = sigma(f)* x Vf(1 - lc/2l) + sigma(m)'(1 - Vf).
4.3.2. 2) When l < lc, it is appropriate to use the following equation: sigma(cd')* = (l x tau)/d x Vf + sigma(m)'(1 - Vf).
4.4. The elastic modulus for discontinuous and randomly orientated fibrous composites may be determined using the following equation: Ecd = KefVf + EmVm.
5. THE FIBER PHASE
5.1. On the basis of diameter and material type, fiber reinforcements are classified as follows:
5.1.1. Whiskers - extremely strong single crystals that have very small diameters
5.1.2. Fibers - normally polymers or ceramics that may be either amorphous or polycrystalline
5.1.3. Wires - metals/alloys that have relatively large diameters
6. THE MATRIX PHASE
6.1. The matrix phase normally performs three functions:
6.1.1. 1) It binds the fibers together and transmits an externally applied load to the fibers
6.1.2. 2) It protects the individual fibers from surface damage
6.1.3. 3) It prevents the propagation of cracks from fiber to fiber.
7. POLYMER-MATRIX COMPOSITES
7.1. Polymer-matrix composites are the most common; they may be reinforced with glass, carbon, and aramid fibers.
8. METAL-MATRIX COMPOSITES
8.1. Service temperatures are higher for metal-matrix composites (MMCs) than for polymer-matrix composites. MMCs also use a variety of fiber and whisker types.
9. CERAMIC-MATRIX COMPOSITES
9.1. With ceramic-matrix composites, the design goal is increased fracture toughness. This is achieved by interactions between advancing cracks and dispersed-phase particles.
9.2. Transformation toughening is one such technique for improving Kic.
10. CARBON-CARBON COMPOSITES
10.1. Carbon-carbon composites are composed of carbon fibers embedded in a pyrolyzed carbon matrix.
10.2. These materials are expensive and used in applications requiring high strengths and stiffness, resistance to creep, and good fracture toughnesses.
11. HYBRID COMPOSITES
11.1. The hybrid composites contain at least two different fiber types. By using hybrids, it is possible to design composites having better all-around sets of properties.
12. PROCESSING OF FIBER-REINFORCED COMPOSITES
12.1. Several composite processing techniques have been developed that provide a uniform fiber distribution and a high degree of alignment.
12.2. With pultrusion, components of continuous length and constant cross section are formed as resin-impregnated fiber tows are pulled through a die.
12.3. Composites used for many structural applications are commonly prepared using a lay-up operation (either hand or automated), in which prepreg tape plies are laid down on a tooled surface and are subsequently fully cured by the simultaneous application of heat and pressure.
12.4. Some hollow structures may be fabricated using automated filament winding procedures, by which resin-coated strands or tows or prepreg tape are continuously wound onto a mandrel, followed by a curing operation.