TPACK and SAMR by Wren
by Wren Chester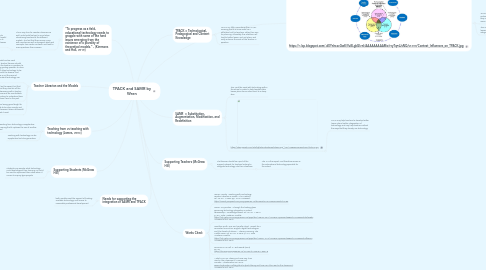 1. https://1.bp.blogspot.com/-dXYnhx4cGwE/VuELgkGI2nI/AAAAAAAAAMo/r0yTq5JJsNQ/s1600/Context_Influences_on_TPACK.jpg
1.1. TPACK is more likely to help teachers evaluate the ways in which the technology they use is beneficial and adjust to get more out of it
1.2. This is more about how effective the lessons/teaching practices are, rather than integrating new technology
2. TPACK = Technological, Pedagogical and Content Knowledge
2.1. TPACK is a little more dense than SAMR, meaning that it is more useful as a reflection tool for teachers, rather than one for planning. Ultimately, this refelction will lead to better lesson and unit plans, and really enhance the work of the teacher in question
3. SAMR = Substitution, Augmentation, Modification, and Redefinition
3.1. This could be used with technology within the school in order to help teachers take lesson plans from surface level to a deep dive.
3.2. https://sites.google.com/site/bythebrooksdesignforlearning/_/rsrc/1468852536902/samr/Slide12.jpg
3.2.1. SAMR may help teachers to develop better lesson plans, better integreation of technology, and may help teachers rethink the ways that they already use technology.
4. "To progress as a field, educational technology needs to grapple with some of the hard issues emerging from the existence of a plurality of theoretical models." - (Kimmons and Hall, 2018)
4.1. This is very true for Teacher Librarians as well, and should be kept in mind when introducing teachers to the different models. The fact that there are so many, with overlaps as well as divergent ideas and concepts, can create confusion and lead to more questions than answers.
4.1.1. Teacher Librarians could be the ones to determine what is most relevant and useful for their school, introduce teachers to it, and help establish a foundation for classes, lessons, and units.
5. Teacher Librarian and the Models
5.1. Before either model can be used successfully, the teacher librarian should collaborate with the teacher in question to develop a strong guiding question to drive the unit. This will allow technology to be used in tandem with the lessons, and ensure that there is not the issue of needless or redundant technology use during lessons.
5.2. The TL must also be the expert, but that does not mean that they must do all the work. It is worth discussing with a teacher what tech they know and are comfortable with, as well as working to understand how those tools have been used in the past
5.3. The information being given/taught to teachers needs to be clear, simple and applicable, otherwise it does not benefit those that need it most.
6. Teaching from vs teaching with technology (James, 2006)
6.1. Teaching from technology is supplantive, meaning that it replaces the use of another tool
6.2. Teaching with technology can be supplantive, but also generative.
7. Supporting Teachers (McGraw Hill)
7.1. The librarian should be a part of the support network for teachers looking to integrate technology into their classroom
7.1.1. The TL is the expert, and therefore serves as the educaational technology specialist for the school
8. Supporting Students (McGraw Hill)
8.1. Students may wonder what technology could best support their learning, or could be used to implement their ideas when it comes to inquiry-type projects
9. Needs for supporting the integration of SAMR and TPACK
9.1. both models need the support of funding, available technology, and access to reasonable professional development
10. Works Cited:
10.1. James, Wendy. "Teaching with Technology: Teacher Librarian as Guide." The Medium, vol. 46, no. 1, 2006, pp. 15-18. ProQuest, https://search-proquest-com.proxy.queensu.ca/docview/207457435?accountid=6180.
10.2. Green, Lucy Santos. "Through the looking glass: examining technology integration in school librarianship." Knowledge Quest, vol. 43, no. 1, 2014, p. 36+. Gale Academic Onefile, https://link-gale-com.proxy.queensu.ca/apps/doc/A384341051/AONE?u=queensulaw&sid=AONE&xid=d3f568bc. Accessed 3 Oct. 2019.
10.3. Hamilton-Smith, Sue, and Janelle Stuart. "Quest for a connected curriculum: English, digital technologies and 'the forests of silence'." Literacy Learning: The Middle Years, vol. 24, no. 3, 2016, p. 31+. Gale Academic Onefile, https://link-gale-com.proxy.queensu.ca/apps/doc/A468771614/AONE?u=queensulaw&sid=AONE&xid=aff40ec4. Accessed 3 Oct. 2019.
10.4. Kimmons, R. & Hall, C. TechTrends (2018) 62: 29. https://doi-org.proxy.queensu.ca/10.1007/s11528-017-0227-8
10.5. "What Is TPACK Theory and How Can It Be Used in the Classroom? | McGraw-Hill Canada." Mheducation.Ca, 2019, www.mheducation.ca/blog/what-is-tpack-theory-and-how-can-it-be-used-in-the-classroom/. Accessed 3 Oct. 2019. ‌