El alfiler copió fragmentos de texto para que no expiren después de 1 hora
by ERIKA GUALTEROS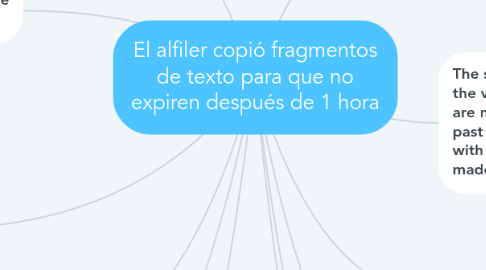 1. The simple past (also called past simple, past indefinite or preterite) is a verb tense which is used to show that a completed action took place at a specific time in the past.
2. The simple past is formed using the verb + ed. In addition, there are many verbs with irregular past forms. Questions are made with did and negative forms are made with did not.
3. EXAMPLES
3.1. Statement: You called Debbie. Question: Did you call Debbie? Negative: You did not call Debbie.
4. USE 1 Completed Action in the Past
4.1. Use the simple past to express the idea that an action started and finished at a specific time in the past
5. USE 2 Series of Completed Actions
5.1. We use the simple past to list a series of completed actions in the past. These actions happen 1st, 2nd, 3rd, 4th, and so on
6. USE 3 Duration in the Past
6.1. The simple past can be used with a duration which starts and stops in the past. A duration is a longer action often indicated by expressions such as: for two years, for five minutes, all day, all year, etc
7. I studied French when I was a child.
8. He played the violin.
9. He didn't play the piano.
10. Did you play a musical instrument when you were a kid?
11. She worked at the movie theater after school.
12. They never went to school, they always skipped class