Final Major Project Year 2
by Megan Clayton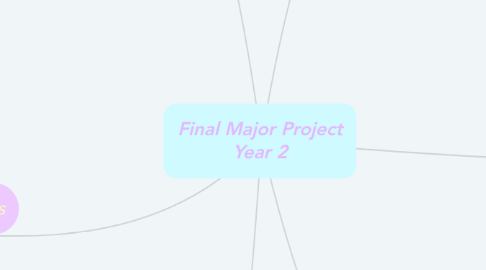 1. How has the growth of music streaming services like Spotify, Apple Music etc. impacted the music industry?
2. Songwriting
2.1. If we follow our acton plan effectively the we should have all four songs written within four weeks
2.2. In order to get everything done within the time limit we will have to work well as a collective and focus on our teamwork skills. I will be focusing on the melody and lyrics of the songs as I will be singing some of them so I will need to make sure they are in my vocal range. I will also be helping write the chord progressions as I also play guitar.
2.3. We have given ourselves this amount of time to get the writing done so we don't rush the songwriting process and make sure we make the songs as good as they can be. We want to make sure we're all 100% happy with what we've written.
3. Recording
3.1. For the recording of our songs we will be using Saltwell Studios. We will be using this studio because we have recorded our previous releases there so we are familiar with the equipment there and what quality of sound we will be getting out of the recording.
3.2. We will also be doing a second recording of our songs at college for our bass player Cameron to record so that we can have a backup recording of the songs just incase we don't have enough time to record all of the songs in the studio with the funds we have at the minute.
4. Promotion and Marketing
4.1. For promotion we will mainly be using our social media, namely our Instagram page which now has over 400 followers. We also get featured fairly regularly on local promotion pages. This is a good way to grow our audience locally.
4.2. Once we release the singles, we will be submitting our songs onto Spotify playlists that are genre specific. We will be doing this because Spotify official playlists are a great way to get your music seen as these playlists have hundreds of thousands, sometimes even millions of followers who frequently use pre-made playlists to discover new music.
5. Delivery Formats
5.1. Streaming services
5.1.1. Spotify
5.1.2. Apple Music
5.1.3. iTunes
5.1.4. Amazon Music
5.2. Social Media
5.2.1. YouTube
5.2.2. YouTube Music
5.3. TV channels
5.3.1. MTV
5.3.2. Kerrang
5.3.3. The Box
5.3.4. Fuse
5.4. Radio
5.4.1. BBC Radio
5.4.2. Heart Radio
5.4.3. Local Radio stations
5.5. Magazines
5.5.1. Kerrang
5.5.2. NME
5.5.3. Rolling Stone
6. How has the growth of delivery formats impacted how people consume music?
7. Release
7.1. We will be releasing the four songs as singles. We have decided to do this because, during our research for this project we discovered that it is a more effective way of releasing music. Producer Calvin Harris said in an interview that it allows artists to "have a constant chart presence".
7.2. The time in between releases will also allow us to focus on the promotion side of this project, it will also allow us to put more effort into the album art. We can then post the album art to our social media before the releases to generate a hype for our songs in the run up to the release.
8. Funds
8.1. This project will cost around £800. This includes £400 for the two days we will be spending in the studio recording and mixing, £200 for the mastering of the tracks and £200 for the artwork. This will prove challenging for us but we plan to overcome this problem by using some of the money we've been saving from gigs we've been paid for in the past to contribute to the costs.