Interface Design
by Minh Hằng Nguyễn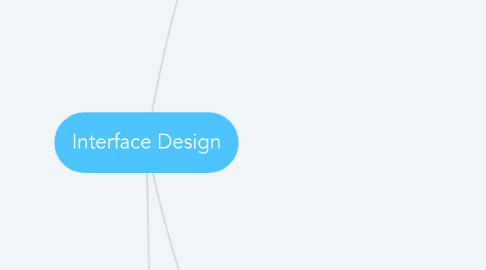 1. INFORMATION DESIGN
1.1. DESIGNING INFORMATION
1.1.1. Who
1.1.1.1. Who is speaking?
1.1.2. What
1.1.2.1. The page <title> element is the most important determinant of keyword relevance for search engines
1.1.3. When
1.1.3.1. Timeliness is an important element in evaluating the worth of a document.
1.1.4. Where
1.1.4.1. • An informative html page title (within the html <title> tag), which also becomes the text of any bookmark to the page
1.1.4.2. • A prominent title at the top of the local content area, identifying the primary purpose or content of the page
1.1.4.3. • The creator's identity (author or institution)
1.1.4.4. • A creation or revision date
1.1.4.5. • A copyright statement, Creative Commons statement, or other statement of ownership to protect your intellectual property rights
1.1.4.6. • A link to a local home page or menu page, in a consistent location on all pages
1.1.4.7. • A link to the local site home page
1.1.4.8. • A link to the home page of your enterprise or company
1.1.4.9. Most web pages should also incorporate these additional elements:
1.1.4.9.1. • An organization logo or name near the upper left corner, with a link back to your home page
1.1.4.9.2. • Navigation links to other major sections of your site
1.1.4.9.3. • At least one heading to identify and clarify the page content
1.1.4.9.4. • Mailing address and contact information or a link to this information
1.1.4.9.5. • Alternate ("alt") text identifying any graphics on the page
2. MOBILE INTERFACE DESIGN
2.1. DESIGNING THE MOBILE USER EXPERIENCE
2.1.1. Mobile context
2.1.1.1. users access their phones and tablets under quiet, controlled conditions
2.1.1.2. mobile computing is done in potentially distracting environments where intermittent use and disruptions are common, and even simple tasks are harder to accomplish than in the desktop world of larger screens, physical keyboards, and mouse or touchpad pointers.
2.1.2. Components of mobile UI
2.1.2.1. • Touch targets should be larger in small-screen contexts.
2.1.2.2. • Adapt your typography for small screens and high resolution.
2.1.2.3. • Ensure snappy performance.
2.1.2.4. • Make payments easy.
2.1.2.5. • Provide accessible content and functionality.
2.1.2.6. • Provide access to the "desktop version."
2.1.3. Screen sizes and orientations
3. ENTERPRISE INTERFACE DESIGN
3.1. PROVIDING A COHESIVE EXPERIENCE
3.1.1. Coherence
3.1.2. Symbolism
3.1.3. Positioning