Assessments
by Regan Baccus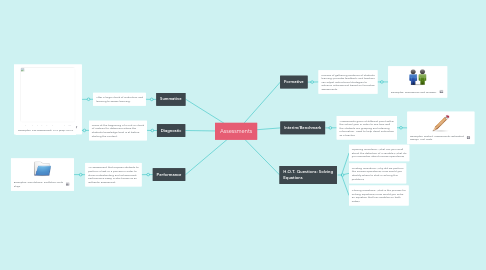 1. Formative
1.1. Process of gathering evidence of students learning, provides feedback, and teachers can adjust instructional strategies to enhance achievement based on formative assessments.
1.1.1. Examples: Discussions and Quizzes.
2. Interim/Benchmark
2.1. Assessments given at different point within the school year in order to see how well the students are grasping and retaining information. Used to help direct instruction as a teacher.
2.1.1. Examples: District Assessments, Extended Essays, Unit Tests
3. Summative
3.1. After a large chunk of instruction and learning to assess learning.
3.1.1. Examples: Standardized Testing, Final Exams, Major Cumulative Projects
4. Diagnostic
4.1. Given at the beginning of a unit or chunk of material to determine where the students knowledge level is at before starting the content.
4.1.1. Examples: Pre-assessment, SAT prep, PSAT
5. Performance
5.1. An assessment that requires students to perform a task or a process in order to show understanding and achievement. Performance essay is also known as an authentic assessment.
5.1.1. Examples: Simulations, Portfolios, Role Plays
6. H.O.T. Questions: Solving Equations
6.1. Opening Questions: What can you recall about the definition of a variable? What do you remember about inverse operations?
6.2. Guiding Questions: Why did we perform the inverse operations? How would you identify where to start in solving this problem?
6.3. Closing Questions: What is the process for solving equations? How would you solve an equation that has variables on both sides?