Mechanisms of antimicrobial resistance and its effect on infection control in hospitals
by Hannah Kearney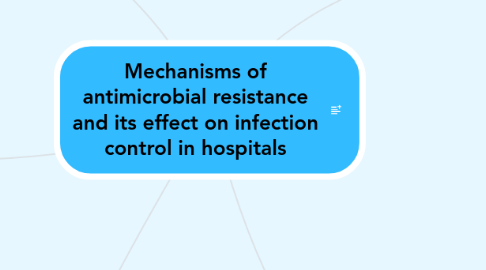 1. Introduction
1.1. Antimicrobial Background
1.2. Mechanisms of resistance overview
1.3. Infection Control in Hospitals and relative protocols
2. CHAPTER ONE - PROBLEM
2.1. Importance of antimicrobials
2.1.1. ->different classes
2.2. Sources of antimicrobials
2.3. Health concerns with antimicrobials
2.4. Abuse of antimicrobials
2.4.1. ->GPs, Consultants etc. All contribute to resistance issues. Over prescribing, incorrect diagnosis.
2.4.2. Sharing of antimicrobial. Not completing courses, using old or leftovers.
2.5. Restricting antimicrobials
3. CHAPTER TWO - WHAT ARE HOSPITALS DOING?
3.1. Hand Hygiene policies
3.1.1. hand washes and rubs
3.1.1.1. Use of gloves
3.1.1.1.1. 5 steps of handwashing
3.2. Infection Control committees
3.3. Prescription monitoring
3.4. Restricting certain antimicrobials
3.4.1. Insert table.. ranked by severity of need
4. CHAPTER THREE - MECHANISMS OF RESISTANCE
4.1. Overview
4.2. Modification of drug target site
4.3. Enzymatic degredation of antimicrobials
4.3.1. Beta-Lactam Ring
4.3.1.1. Beta- Lactamase enzymes destroy the Beta lactam ring in the antimicrobial drug. inhibiting its effect on the bacteria causing the disease
4.4. Mutations to membrane permeability
4.4.1. changes to cell wall so drug cannot bind or permeate.
5. DISCUSSION
5.1. Can we overcome resistance?
5.2. are hospitals doing enough?
5.3. Mechanisms are a major problem point for researchers
5.4. Bacteria are constantly changing and overpowering drugs