THE IMPORTANCE OF PHOTOGRAPHY IN ASTRONOMY
by Georgia Watkins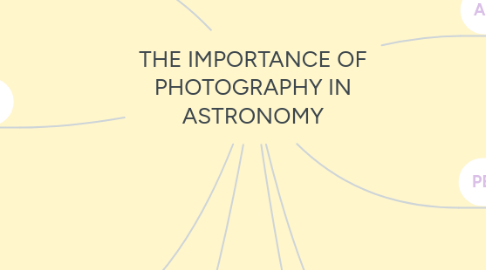 1. ARTISTS
1.1. Luci Eldrige
1.2. Katie Paterson
2. PEOPLE
2.1. Katie Bouman
2.2. Shep Doeleman
2.3. Lewis Rutherford
2.4. Louis Daguerre
2.5. Henry Draper
3. IMAGE PROCESSING
3.1. Can be used to find out chemical composition
3.2. Element of time
4. PROBES
4.1. Voyager
4.2. Juno
4.3. Cassini
4.4. Importance of the time it takes to receive signals
4.4.1. How could that object have changed since the light left it?
5. ANALOGUE PHOTOGRAPHY
5.1. When images are photographed, a photon of light that has travelled all the way from that object has been physically captured in the film
5.2. First images of the moon, Orion etc.
5.3. Plate photography
5.4. Absence of colour - how does this compare to now?
6. SPACE TELESCOPES
6.1. Hubble
6.1.1. First image taken by HST
6.1.2. How is this fed to the media?
6.2. James Webb
6.2.1. How is the new telescope going to change what we know about deep space objects?
7. SCIENTIFIC BREAKTHROUGHS
7.1. First image of a black hole
7.1.1. Made from a LOT of data
7.2. First images of sun / solar eclipse
7.3. Jupiter poles
8. RESOURCES
8.1. BBC: How To See A Black Hole
8.2. The Universe in A Mirror - Robert Zimmerman