Studies on labour safaty in construction sites
by Kauê Martins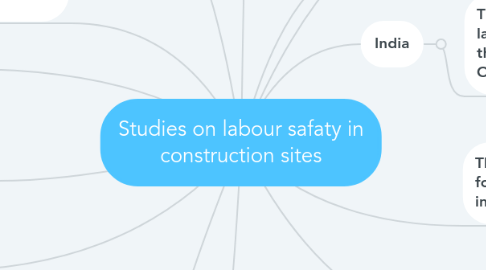 1. Most employs after agriculture
1.1. 7.5% of the world's construction workforce
1.1.1. Contributes 16.4% of work accidents worldwide
2. Always if the employee does his part works
3. The occupational safety and health standard it is even worse in developing countries.
4. Most accidents are caused by lack of personal communication or professional instruction.
5. In India,departments under the Ministry of Labour and Employment deal with (OSH) issues in construction sector under the head of Chief Labour Commissioner. Directorate General Factory Advise Service Labour Institute (DGFASLI) provides technical support in drafting model rules.
6. The provisions available in the laws that can be followed by employers for ensuring safe construction site environment can be studied in detail.
7. The paper concluded that the major cause for construction accidents is due to injuries.
8. The employer can always check the legislation and develop an appropriate specific health and safety plan for employer's workplace and employees.
9. India
9.1. The country has in its history the largest reported labor accident of the International Labor Organization (ILO).
9.1.1. To alleviate accidents among workers, companies are investing in preparatory courses for the prevention of their workers.
9.1.2. Improving communication throughout the building process.
10. In more developed countries large buildings have better awareness.
10.1. Work safety is more developed for your workers.
11. Very dangerous workplace
11.1. Unsatisfactory health and safety at work
12. The work organizing committee is developing ways for mapping
12.1. Check for the most recurring workplace accidents that occur and that locations.
13. It is even worse in developing countries.