Bioremediation assessment of diesel-biodiesel-contaminated soil using an alternative bioaugmentation strategy
by Dagnover Largo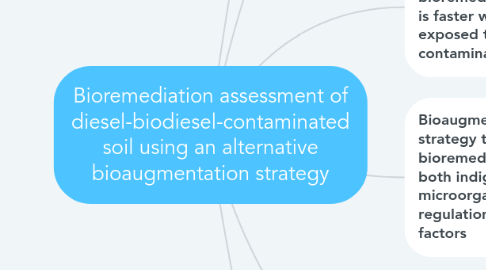 1. Bioaugmentation has been used increasing effi-cient microorganisms for bioremediation with high perfor-mance
2. Bioaugmentation, is a promising strategy to ac-celerate the bioremediation process because both indigenousand exogenous microorganisms benefit from the regulation ofsome environmental factors
3. The bioaugmentation is carried out through the application of consortia at the beginning of the treatment, once the samples of contaminated soil are taken, multiple inoculations are carried out to determine with which microorganisms or bacterial consortia there is the greatest removal of hydrocarbons from the contaminated soil .
4. According to studies, it was determined that this process of bioremediation by hydrocarbons is faster when microbes are exposed to lower levels of contamination.
5. According to this scientific article, it was possible to analyze that the reduction of TPH in contaminated soils is much greater when successive bioaugmentation strategies are used as long as an appropriate stimulus to microbes is incorporated.
6. Bioaugmentation has become one of the most used methods by companies or entities that are responsible for the recovery of soils contaminated with hydrocarbons as it is easy to manage on-site and has a high percentage of removal of these TPH, which can mitigate all these damages previously caused to the soil