DESIGN OF A HACCP PLAN FOR INDIGENOUS CHICKEN SLAUGHTER HOUSE IN KENYA
by Awang Rahman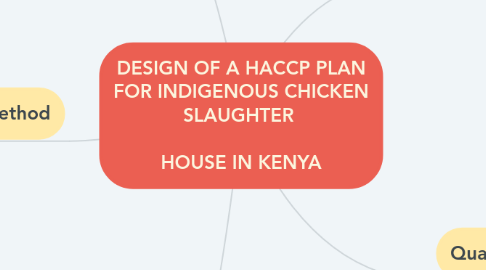 1. MATERIALS AND METHODS
1.1. This study was conducted in a poultry slaughter house which processes indigenous chicken, located in Nakuru County in Kenya. The slaughter house is jointly owned by the municipal council and over thirty (30) traders who supply it with chicken for processing (dressing). The slaughter house is a small-scale processing unit with a capacity to process about one thousand chickens per day. The development of the HACCP programme was supported by Nakuru County through the county veterinary office in its bid to ensure a supply of high quality and safe indigenous chicken products to its dwellers.
2. Quality objectives
2.1. The slaughterhouse's quality objective was to supply its customers with safe IC products of highest quality by implementing the HACCP system that ensures a safe processing environment free from all important potential contaminants. To achieve this, it will create and maintain strong relations with farmers, employees, the county administration, and other business partners while operating within the national and international regulations relevant to the business.
3. Measuring operations
3.1. including adequate time and temperature to be applied, was recommended and recorded during the production storage, display, and distribution of the poultry carcass. The evaluation of the physical, chemical, and biological hazards was then conducted based on HACCP guidelines.
4. Research method
4.1. This study was a follow up to quantitative research that was used to survey and enumerate the occurrence and prevalence of foodborne pathogens by swabs from the different surfaces of the slaughter house. This acted as the baseline survey that helped to set the target for the developed HACCP system. The current study did not use quantitative research, but qualitative techniques. The aim of this work was to design a HACCP model for implementation in an actual food operation situation. According to Patton , qualitative approaches are preferred where it reveals complex details of phenomena which are not easy to compile and convey quantitatively. A HACCP plan, based on the actual conditions of the premise, was developed with the aim of improving the chicken quality and safety using HACCP principles and many more carefully selected and studied generic models.
5. Location of the slaughterhouse
5.1. The location of the poultry slaughter house presents serious threats to food safety given the bustling of activities surrounding the slaughter house. However, additional security by cages and a fence, and its positioning at the corner of the market enhances its security as every unauthorized person to the premise can easily be monitored and stopped. Pest control operations for the premise benefit from the municipal council's regular pest control services. However, the premise can benefit more from a contracted focused pest control system.