Artificial Intelligence Is a Threat to Cybersecurity. It's Also a Solution.
by Israa Hs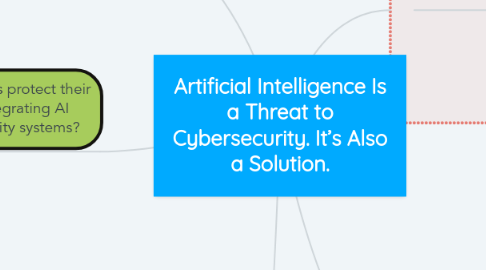 1. How much is the success rate of using artificial intelligence to detect cyber attacks?
1.1. How can companies improve their cyber security through AI?
2. Can Artificial Intelligence help criminals to exploit security vulnerabilities?
2.1. How easy is that?
2.2. What methods do they use?
2.3. What are the used devices and machines?
3. What are some roles of Artificial Intelligence in companies?
3.1. What is the the impact of the role of artificial intelligence in business?
3.2. How Artificial Intelligence positively and negatively Influences Business?
4. Can companies protect their systems by integrating AI into their security systems?
4.1. Can AI become our new Cyber security Sheriff?
4.1.1. What are some potential risks?
4.2. What actions must be taken to accomplish that?
4.2.1. How effective are these actions?
4.2.1.1. How can these effects help the company's security system?
4.3. How much this can cost companies ?
5. What is artificial intelligence?
5.1. What are the uses of AI
5.2. in which fields use AI the most?
5.2.1. What is their purpose of using them?
5.3. What are different type of AI machines?
5.3.1. What is the purpose of each type and how do they work?
5.4. What are the main components of AI