ROLES of the teacher-librarian
by Catherine McLeod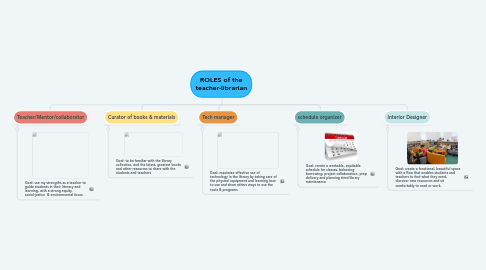 1. Curator of books & materials
1.1. Goal: to be familiar with the library collection, and the latest, greatest books and other resources to share with the students and teachers
2. Interior Designer
2.1. Goal: create a functional, beautiful space with a flow that enables students and teachers to find what they need, discover new resources and sit comfortably to read or work.
3. Tech manager
3.1. Goal: maximize effective use of technology in the library by taking care of the physical equipment and learning how to use and show others ways to use the tools & programs
4. schedule organizer
4.1. Goal: create a workable, equitable schedule for classes, balancing borrowing, project collaboration, prep delivery and planning time/library maintenance
5. Teacher/Mentor/collaborator
5.1. Goal: use my strengths as a teacher to guide students in their literacy and learning, with a strong equity, social-justice & environmental focus.