Human Resource Department
by Robert Guel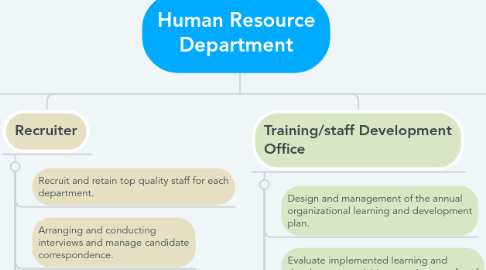 1. Human Resource Manager
1.1. Management of the HR department
1.2. Develop and implement the company's culture and business model.
1.3. Able to stay up-to-date with the latest trends, best practices, and ethics in Human Resource profession.
1.4. Implement HR policies and programs.
1.5. Conduct performance reviews with department managers and monitor employee productivity, attitudes, and performance results.
1.6. Evaluate benefits programs and implement cost-effective solutions.
1.7. Leader, successful track record, excellent communications skills.
1.8. A strong understanding and educational foundation of human resource functions.
2. Recruiter
2.1. Recruit and retain top quality staff for each department.
2.2. Arranging and conducting interviews and manage candidate correspondence.
2.3. Talent Management
2.4. Partner with department managers to determine sourcing strategies to attract talent.
2.5. Implement recruiting standards, processes, training and programs.
2.6. Check references and extend offers.
2.7. Creation of offer letters and managing background checks.
2.8. Clear communicator, good listener.
3. Training/staff Development Office
3.1. Design and management of the annual organizational learning and development plan.
3.2. Evaluate implemented learning and development activities ensuring transfer of learning and impact on individuals, teams, and organization.
3.3. Work across company departments to find and mentor talent.
3.4. Provide ongoing performance management guidance to department managers and supervisors.
3.5. Continued research of latest successful employee training and development trends.
3.6. Coordinate workshops and seminars.
3.7. Excellent interpersonal, written and oral communication skills.
4. HR Administrative Assistant
4.1. Provide efficient and effective administrative support for human resource department.
4.2. Assist in administrating employee benefits.
4.3. Provide first point of contact for all general HR inquiries, administration and correspondence.
4.4. Develop, review and update of template documentation.
4.5. Assist in day to day operations of the HR department.
4.6. Ensure all paperwork is stored and filed per HR process requirements.
4.7. Can coordinate and manage a wide range of activities at a time