What does inquiry in SS look like?
by Shay-Lee Savill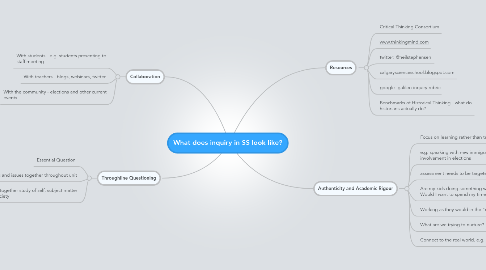 1. Resources
1.1. Critical Thinking Consortium
1.2. www.thinkingmind.com
1.3. twitter: @neilstephensen
1.4. calgaryscienceschool.blogspot.com
1.5. google- galileo inquiry rubric
1.6. Benchmarks of Historical Thinking - what do historians actually do?
2. Authenticity and Academic Rigour
2.1. Focus on learning rather than teaching
2.2. e.g. speaking with new immigrants, involvement in elections
2.3. assessment needs to be targeted
2.4. Are my kids doing something worth doing? Would I want to spend my time doing this?
2.5. Working as they would in the "real world"
2.6. What are we trying to nurture?
2.7. Connect to the real world. e.g. current events
3. Collaboration
3.1. With students - e.g. students presenting to staff meeting
3.2. With teachers - blogs, webinars, twitter
3.3. With the community - elections and other current events
4. Throughline Questioning
4.1. Essential Question
4.2. Pulls topics and issues together throughout unit
4.3. Brings together study of self, subject matter and society