PBL 1: THE GATEKEEPER
by fatin idayu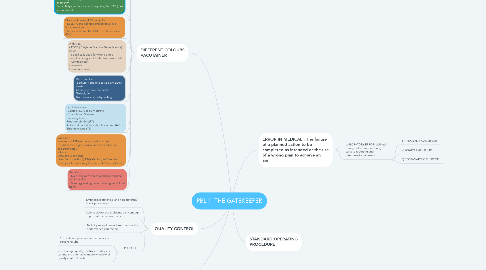 1. ERROR IN MEDICAL : The failure of a planned action to be completed as intended or the use of a wrong plan to achieve an aim.
1.1. LABORATORY ERROR: defined as any defect from ordering tests to reporting and interpretation of results
1.1.1. 1) PREANALYTICAL ERROR
1.1.2. 2) ANALYTICAL ERROR
1.1.3. 3) POSTANALYTICAL ERROR
2. STANDARD OPERATING PROCEDURE
3. DIFFERENT COLOURS VACUTAINER
3.1. The Purple Cap - EDTA ( Ethylene Diamine Tetra-Acetate) liquid. -Common tests: Full blood count (FBC) Blood film for abnormal cells for Malaria Reticulocytes HbA1c for diabetic control Parathyroid hormone (PTH)
3.2. Grey Cap - Sodium fluoride acts as an anti-glycolytic agent. - Potassium oxalate acts as anti-coagulant. - Tests: Glucose-fasting or non-fasting, glucose tolerance test (GTT) Lactate
3.3. Dark Green Cap - Contains Heparin (anticoagulant) combined with lithium, sodium, or ammonium ion. - Common Tests: Chemistry Testing (Plasma determinations in chemistry) Particularly stat tests or tests requiring fast TAT (turn around time)
3.4. Black and Brown (FMC only) Cap - K3EDTA and cell free preservative in a liquid medium - Streck Cell-Free DNA BCT CE tubes used at FMC
3.5. Pink Cap - EDTA ( Ethylene Diamine Tetra-Acetate) liquid. - Specifically used for whole blood samples being sent to the transfusion lab. - Common test: Crossmatch Group and save
3.6. Dark Blue Cap -Sodium Heparin also Sodium EDTA -Tests: Chemistry trace elements Toxicology Nutritional chemistry testing
3.7. Light Blue Cap -Contain 3.2% sodium citrate -Coagulation Screens: Bleeding time Prothrombin time(PT) Activated partial thromboplastin time (APPT) Thrombin time (TT)
3.8. Gold Cap - Known as SST (serum separating tube) - Contain two agents-silica particles and serum separating gel. - Tests: Urea and electrolyte Liver Function Tests(LFTs)-bilirubin, ALP and etc. Bone profile( calcium, phosphate, ALP and albumin)
3.9. Red Cap - No preservative silica particles which act as clot activator. - Serology testing, serum testing and blood bank.
4. QUALITY CONTROL
4.1. Emphasizes statistical and non statistical check procedures
4.2. Able to detect the problems early enough to prevent their consequences
4.3. Techniques and procedures that monitor performance parameters
4.4. PURPOSE
4.4.1. 1)To validate precision and accuracy of patient results
4.4.2. 2)To manage quality control include peer testing and alternative monthly review of quality control trends
5. PROFESIONALISM
5.1. Conducting oneself with responsibility, integrity, accountability, and excellence. It means communicating effectively and appropriately and always finding a way to be productive.