From the origins to the end of the Middle Ages
by Rossella cinquina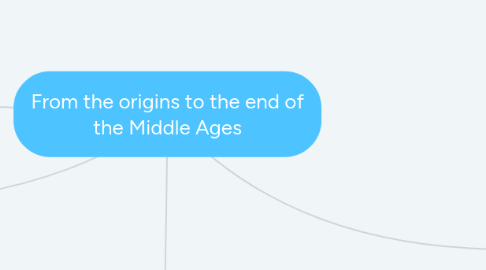 1. CELTIC BRITAIN - 1000 BCE
1.1. The CELTS were divided in three main groups: the GAULS (France); the BRITONS (Wales and Cornwall); the GAELS (Ireland and Scotland).
1.1.1. Religion: DRUIDISM; Their Divinity: NATURAL ELEMENTS like the SUN.
2. THE ROMAN INVASION - 43 CE
2.1. Roman Britain included present-day ENGLAND and WALES.
2.1.1. They couldn't subject the Scotts, so Emperor Hadrian built a wall to defend the province of Britannia from the Scotts: the HADRIAN'S WALL - runs from coast to coast.
2.1.1.1. The Romans brought their civilization: built towns, built roads, built aqueducts.
2.1.1.1.1. Romans brought their language - LATIN, and their religion - CHRISTIANITY
3. ANGLO-SAXON ENGLAND - 410 CE
3.1. After the end of the Roman occupation, new invaders arrived from across the North sea.
3.1.1. Germanic tribes: the ANGLES, the SAXONS and the JUTES.
3.1.1.1. they spoke dialects of a language called OLD ENGLISH. Modern speakers can't understand this language, but there are traces of it in the English vocabulary.
3.1.1.1.1. ANGLO-SAXON ENGLAND was divided into seven kingdoms.
4. THE NORMAN INVASION - 1066 CE
4.1. WILLIAM THE CONQUEROR, Duke of Normandy, defeated the Anglo-Saxons at the BATTLE OF HASTINGS IN 1066 CE.
4.1.1. The NORMANS introduced the FEUDAL SYSTEM
4.1.1.1. FEUDAL SYSTEM: all land belonged to the king. The king portioned out the land (FEUDS) to his followers, and they, in return, promised him loyalty, fighting men and money. the lowest class of SERFS received no wages for their work, but they had the right to cultivate a few strips of land for themselves.
4.1.1.1.1. In the towns the GUILDS emerged. They were a trade organization which protected their members from unchecked competition, trained new workers and set wages.
4.1.2. The defeated Anglo-Saxons were reduced to the condition of serfs and lost their property and rights.
4.1.3. HENRY I was the first Norman king born in England, and the first to speak English as well as French.
4.1.3.1. HENRY II - 1154 - was the first king in the French PLANTAGENET line.
4.1.3.1.1. Hanry II laid the foundation for the English British jury system. The kingdom was subjected to the COMMON LAW, except the Church.
4.1.3.1.2. KING JOHN - 1215 - Henry II's son, was an unpopular king.