Empowerment Technologies
by Louise Miguel Pusing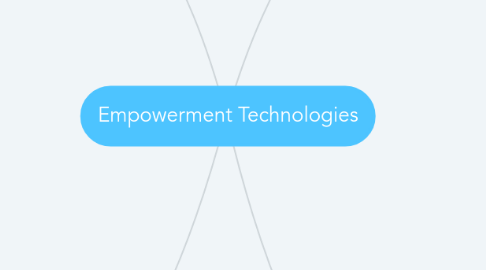 1. Online Platfroms for ICT content development
1.1. are technologies that are group to be used as a base upon which other applications process or technologies are developed
1.1.1. social media platforms
1.1.1.1. websites like facebook allow you to create not only personal accounts but also pages and groups where you can share content.
1.1.2. blogging platforms
1.1.2.1. websites like wordpress, tumblr, and blogger focus on content and design
1.1.3. content management system
1.1.3.1. is a computer application that allows you to publish, edit and manipulate, organize and delete web content
2. Collaborative ICT Development
2.1. this also rings true for other websites and blogs. it is now time for us to create a collaborative ICT content
2.1.1. web portals
2.1.1.1. is a website that contains information from different sources and places them in one location
2.1.2. online collaborative tools
2.1.2.1. working together does not necessarily mean you have to be physically together.
2.1.3. trello
2.1.3.1. a free tool used for online collaboration
2.1.4. yammer
2.1.4.1. another free tool that can used for online collaboration
3. Interactive Multimedia
3.1. any computer delivered electronic system that allows the user control, combine, and manipulate different types of media, susch as text, sourd, video computer graphics and animation
3.1.1. vodcast
3.1.1.1. an episodic series of video streamed online
3.1.2. videos
3.1.2.1. through video hosting sites, you can take a video and show it to the entire world
3.1.3. podcasts
3.1.3.1. an episodic series of audio or text files streamed online
3.1.4. sound, music or audio
3.1.4.1. if videos are too much for you, you can always record sounds. and share your sound bites to the entire world
3.1.5. online games
3.1.5.1. game developers now create what is called "browser based games"
3.1.6. online tests
3.1.6.1. online survey forms and tests that automatically display the results when finished
3.1.7. courseware
3.1.7.1. online courses that simulates the classroom online
4. Basic Web Page Creation
4.1. web page creation using templates
4.1.1. WYSIWYG
4.1.1.1. an editor that allows you to create and design web pages without any coding knowledge
4.1.2. HTML
4.1.2.1. stands for Hypertext Markup Language
4.1.3. CSS
4.1.3.1. stands for Cascading style sheets
4.1.4. Jimdo
4.1.4.1. a free website provider wth a WYSIWYG editor
4.1.5. Template
4.1.5.1. a ready made design for a website
4.1.6. SEO
4.1.6.1. stands for Search Engine Optimization; a future that maximizes the search engine operation feature so visitors can easily locate your website