Empowerment Technologist
by justine carian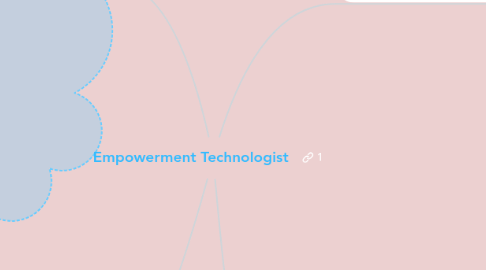 1. ONLINE PLATFORMS FOR ICT CONTENT DEVELOPMENT
1.1. SOCIAL MEDIA PLATFORMS
1.1.1. -WEBSITE LIKE FACEBOOK ALLOW YOU TO CREATE NOT ONLY PERSONAL ACCOUNT BUT ALSO PAGES AND GRUPOS WHERE YOU CAN SHARE CONTENT
1.2. NATURE AND PURPOSE OF ONLINE PLATFORM
1.3. WEB APPLICATION FOR CONTENT DEVELOPMENT
1.4. BLOGGING PLATFORMS
1.4.1. -WEBSITE LIKE WORDPRESS, TUMBLER,AND LOGGER FOCUS ON CONTENT AND DESIGN
1.5. CLUAD COMPUTING
1.5.1. ADVANTAGES-Cost Savings Security Flexibility Mobility Insight Increased Collaboration Quality Control Disaster Recovery Loss Prevention Automatic Software Updates Competitive Edge Sustainability
1.5.2. DISADVANTAGES
1.5.2.1. . Network Connection Dependency In order to reap the benefits of cloud computing, your business must always have an internet connection. Unfortunately, there is no way to get around this fact. You need a network in order to send files to the cloud and retrieve them.
1.5.2.2. Limited Features Not all cloud providers are created equally. When you use cloud computing for storage and backup, you should ideally be working with a provider who offers the value of unlimited bandwidth.
1.5.2.3. Loss of Control You are, essentially, trusting another party to take care of your data. You are trusting that they will maintain their data centers and servers with the same care as you would, if not more.
1.5.2.4. Security Cloud hacking cases as recent as the past few months have shown that not all cloud providers are as secure as they claim to be. As a business, you can't afford to have sensitive information about your company or your clients fall victim to hackers.
1.5.2.5. Technical Issues If you experience any technical issues, you have no choice but to call your hosted provider's technical support for help. You cannot fix your cloud computing problems in-house, and some providers do not offer around-the-clock technical support.
2. INTIRACTIVE MULTIMEDIA
2.1. RICH CONTENT IN THE ONLINE ENVIRONMENT
2.2. MULTIMEDIA AND INTERACTIVITY
2.2.1. MULTIMEDIA CONCEPT
2.2.1.1. 1.VIDEO 2.SOUND MUSICS OR AUDIO 3.ONLINE GAMES 4.ONLINE TEST
2.2.1.2. INSERTING YT VEDEOS ON YOUR BLOG POST
2.2.1.2.1. 1. SEARCH ANY CPM 2.SHARE 3.EMBED 4.COPY 5.TEXT 6.PASTE 7. VISUAL 8. PREVIEWS
3. BASIC WEB PAGE CREATION
3.1. WEB PAGE USING AN ONLINE WYSLWYN PLATFORMS
3.2. WEB PAGE CREATION USING TEMPLATES
3.3. WYSIWYG
3.3.1. WHAT YOU SEE IS WHAT YOU GET
3.4. EDITING ELEMENT
3.4.1. HEADER,IMAGE,PARAGRAPH
4. COLLABORATIVE ICT DEVELOPMENT
4.1. TEAM STRUCTURE AND DYNAMICS FOR ICT CONTENT
4.2. ONLINE COLLABORATING TOOLS AND PROCESSES
4.3. EXAMPLE OF ONLINE COLLABORATING TOOLS: 1.) FACEBOOK GROUPS 2.) G SUITE 3.) WORDPRESS 4.) GOOGLE DOCS,SHEETS,AND SLIDES 5.) MICROSOFT OFFICE ONLINE