Empowerment Technologies
by kalr allan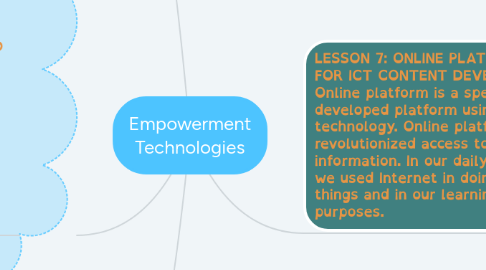 1. LESSON 7: ONLINE PLATFORMS FOR ICT CONTENT DEVELOPMENT Online platform is a specially developed platform using Internet technology. Online platforms have revolutionized access to any information. In our daily life today we used Internet in doing such things and in our learning purposes.
1.1. SOCIAL MEDIA PLATFORMS
1.1.1. facebook
1.1.1.1. an online social networking website where people can create profiles, share information such as photos and quotes about themselves, and respond or link to the information posted by others. An online social networking website is an example of Facebook.
1.1.2. twitter
1.1.2.1. a 'microblogging' system that allows you to send and receive short posts called tweets. Tweets can be up to 140 characters long and can include links to relevant websites and resources. Twitter users follow other users.
1.1.3. instagram
1.1.3.1. a social media app that allows users to share photos and videos from their lives, add captions, edit filters, tweak settings, engage with others, explore and creep, and so, so much more — you just have to know what you're doing so you don't get overwhelmed!
1.2. BLOGGING PLATFORMS
1.2.1. wordpress
1.2.2. wix
1.2.3. tumblr
1.3. CLOUD COMPUTING
1.3.1. advantages
1.3.1.1. Cost efficiency – The biggest reason behind shifting to cloud computing is that it takes considerably lesser cost than an on-premise technology. Now the companies need not store the data in disks anymore as the Cloud offers enormous storage space, saving money and resources of the companies.
1.3.1.2. High Speed – Cloud computing lets you deploy the service quickly in fewer clicks. This quick deployment lets you get the resources required for your system within fewer minutes.
1.3.1.3. Excellent accessibility – Storing the information in cloud allows you to access it anywhere and anytime regardless of the machine making it highly accessible and flexible technology of present times.
1.3.1.4. Back-up and restore data – Once the data is stored in Cloud, it is easier to get the back-up and recovery of that, which is quite a time taking process on-premise.
1.3.1.5. Manageability – Cloud computing eliminates the need for IT infrastructure updates and maintenance since the service provider ensures timely, guaranteed and seamless delivery of your services and also takes care of all the maintenance and management of your IT services according to the service level agreement (SLA).
1.3.2. disadvantages
1.3.2.1. Vulnerability to attacks – Storing data in cloud may pose serious challenge of information theft since in cloud every data of your company is online. Security breach is something that even the best organizations have suffered from and it's a potential risk in cloud as well. Though advanced security measures are deployed on cloud, still storing a confidential data in cloud can be a risky affair.
1.3.2.2. Network connectivity dependency – Cloud computing is entirely dependent on the internet. This direct tie up with internet means that you need a reliable and consistent internet service as well as a good connection speed and bandwidth for your business to reap the benefits of cloud computing.
1.3.2.3. Downtime – Downtime is considered as one of the biggest potential downside of using Cloud computing. Your cloud providers may sometimes face technical outages which can happen due to various reasons such as loss of power, low internet connectivity, data centres going out of service for maintenance etc. This can lead to a temporary downtime in your cloud service.
1.3.2.4. Vendor lock in – When in need to migrate from one cloud platform to another, your company might face some serious challenges because of the differences between vendor platforms. Hosting and running the applications of your current cloud platform on some other platform may cause support issues, configuration complexities and additional expenses. Your data might also be left vulnerable to security attacks due to compromises that might have been made during migrations.
1.3.2.5. Limited control – Cloud customers may face limited control over their deployments. The cloud services run on remote servers which are completely owned and managed by the service providers, which makes it hard for the companies to have the level of control that they would want over their back-end infrastructure.
2. LESSON 10: INTERACTIVE MULTIMEDIA
3. LESSON 9: COLLABORATIVE ICT DEVELOPMENT INFORMATION AND COMMUNICATIONTECHNOLOGIES (ICTS) IS ATERM THAT REFERS TO TECHNOLOGIES THAT ARE USED FOR COLLECTING, STORING, EDITING AND PASSING ON INFORMATION IN VARIOUS FORMS THROUGH VA-RIOUS MEDIA. COLLABORATION IS THE PROCESS INTENDED TO FOSTER SHARING THAT IS NECESSARY AMONG INVOLVED OR AFFECTED GROUPS OR ORGANISATIONS IN ORDER TO ACHIEVE THE COLLECTIVE GAINS OR MINIMISE THE LOSSES. IT IS PROMOTED BY COLLECTIVE GOALS, MUTUAL UNDERSTANDING, INFORMAL ACTIVITY, SHARED RESOURCES,AND COMMON VISION. ATIVE ICT DEVELOPMENT
3.1. WEB PORTAL
3.2. TRELLO
4. LESSON 8: BASIC WEB PAGE CREATION
4.1. WEB DESIGNING
4.1.1. browsers
4.1.1.1. google chrome
4.1.1.2. internet explrorer
4.1.1.3. mozilla firefox
4.2. HTML
4.2.1. html tags
4.3. CSS
4.4. SEO
4.5. JIMBO
4.6. TEMPLATE
4.7. HEADING