Empowerment Technologies
by pauline reyes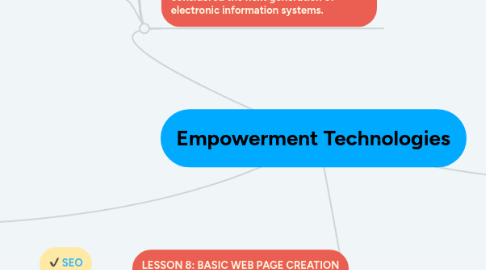 1. LESSON 8: BASIC WEB PAGE CREATION Web pages are built using HTML (Hyper Text Markup Language). The technology for this has been around long before there were web pages or even the Internet so it's not really unique to the Web. A Markup Language is simply inserting special symbols into a body of text to give it some formatting. The ancient UNIX text pre-processor nroff was used to do the same thing back in the early 70s. The idea is to devise a set of special symbols that the processing engine will use to format text but won't display. The formatting symbols won't be visible
1.1. SEO
1.2. Heading
1.3. Template
1.4. Jimbo
1.5. CSS
1.6. HTML
2. LESSON 10: INTERACTIVE MULTIMEDIA Interactive media, also called interactive multimedia, any computer-delivered electronic system that allows the user to control, combine, and manipulate different types of media, such as text, sound, video, computer graphics, and animation. Interactive media integrate computer, memory storage, digital (binary) data, telephone, television, and other information technologies. Their most common applications include training programs, video games, electronic encyclopaedias, and travel guides. Interactive media shift the user's role from observer to participant and are considered the next generation of electronic information systems.
2.1. Multimedia
2.2. Courseware
2.3. Podcast
2.4. Vodcast
2.5. Embed
3. LESSON 9: COLLABORATIVE ICT DEVELOPMENT INFORMATION AND COMMUNICATIONTECHNOLOGIES (ICTS) IS ATERM THAT REFERS TO TECHNOLOGIES THAT ARE USED FOR COLLECTING, STORING, EDITING AND PASSING ON INFORMATION IN VARIOUS FORMS THROUGH VA-RIOUS MEDIA. COLLABORATION IS THE PROCESS INTENDED TO FOSTER SHARING THAT IS NECESSARY AMONG INVOLVED OR AFFECTED GROUPS OR ORGANISATIONS IN ORDER TO ACHIEVE THE COLLECTIVE GAINS OR MINIMISE THE LOSSES. IT IS PROMOTED BY COLLECTIVE GOALS, MUTUAL UNDERSTANDING, INFORMAL ACTIVITY, SHARED RESOURCES,AND COMMON VISION.
3.1. Web Portal
3.2. Trello
3.3. Yammer
4. LESSON 7: ONLINE PLATFORMS FOR ICT CONTENT DEVELOPMENT Online platform is a specially developed platform using Internet technology. Online platforms have revolutionized access to any information. In our daily life today we used Internet in doing such things and in our learning purposes.
4.1. Content Management System
4.2. Blogging
4.3. Social Media Platforms
4.4. WordPress
4.5. Theme
4.6. Online Platforms for ICT Development
4.6.1. Social Media Platform
4.6.2. Blogging Platform