EMPOWERMENT TECHNOLOGIES
by Reinsy Pedrajeta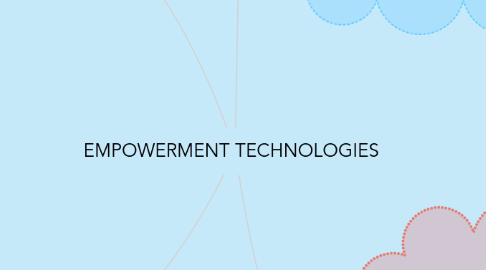 1. ONLINE PLATFORM FOR ICT CONTENT DEVELOPMENT
1.1. Social Media Platforms
1.1.1. Facebook
1.1.2. Twitter
1.1.3. Messenger
1.2. Blogging Platforms
1.2.1. Worldpress
1.2.2. Tumblr
1.3. CREATING YOUR OWN BLOG
1.4. - Sign up at Worldpress
1.4.1. Click Register another blog
1.4.1.1. Pick Blog Access
1.5. Change blog Description
1.5.1. Appearance > themes
1.5.1.1. customize yourblog
1.6. Preview Window
1.6.1. with the appliedchanges
1.6.1.1. customization tools
1.6.1.1.1. allows to customize design
1.7. Preview selection
1.7.1. can previiew how yoursite would look like
1.8. CLOUD COMPUTING
1.8.1. ADVANTAGES
1.8.1.1. -HIGH SPEED
1.8.1.1.1. COST EFFICIENCY
1.8.1.2. BACK UP AND RESTORE DATA
1.8.1.2.1. MANAGEABILITY
1.8.2. DISADVANTAGES
1.8.2.1. VULNERABILITY TO ATTACKS
1.8.2.1.1. NETWORK CONNECTIVITY
1.8.2.2. VENDOR LOCK IN
1.8.2.2.1. LIMITED CONTROL
2. LESSON 8
2.1. BASIC WEB CREATION
2.1.1. What you see is what you get (WYSIWYG)
2.1.1.1. can be contrasted with more traditional editors that require the developer to enter descriptive codes
2.1.2. HTML (HYPERTEXT MARKUP LANGUAGE)
2.1.2.1. used to create documents on the world wide web.
2.1.3. CSS
2.1.3.1. Stands for cascading style sheet. CSS codes to design them
2.1.4. TEMPLATE
2.1.4.1. A ready made design for a website
2.1.5. JIMDO
2.1.5.1. A free website with WYSIWYG editor
2.1.6. SEO
2.1.6.1. Stands for Search Engine Optimization.
2.1.6.2. a feature that maximize the search engine optimization feature
2.1.7. HEADING
2.1.7.1. the topmost label of website
3. LESSON 9 COLLABORATIVE ICT DEVELOPMENT
3.1. ONLINE COLLABORATIVE TOOLS
3.1.1. Can help your group "go the distance"
3.1.2. can work as if you already have your own office
3.2. WEB PORTAL
3.2.1. A website that contains information from different sources
3.2.2. also places them on one location in a uniform way
3.3. TRELLO
3.3.1. A free tool
3.3.2. it is used for online collaboration
3.4. YAMMER
3.4.1. another free tool
3.4.2. it can be used for online collaboration
4. LESSON 10 LESSON TO INERACTIVE MULTIMEDIA
4.1. COURSEWARE
4.1.1. It is an online courses
4.1.2. it simulate the classroom online
4.2. VODCATS
4.2.1. It is an epesodic series of video
4.2.2. it is streamed online
4.3. PODCASTS
4.3.1. An episodic series of audio
4.3.2. text files that streamed online
4.4. MULTIMEDIA
4.4.1. Uses multiple media contents
4.4.2. videos
4.4.2.1. Sounds
4.4.2.1.1. Application
4.5. EMBED
4.5.1. To place an object from one site to another
4.6. VIDEOS
4.6.1. It is use through video hosting sites
4.6.2. you can also take a video
4.6.3. an also you can show it to the entire world
4.7. SOUND MUSIC AND AUDIO
4.7.1. In this you can also record different types of sounds
4.7.2. and also you can share your sound bites to the entire world