EMPOWERMENT TECHNOLOGIES
by Juleanna Lagarde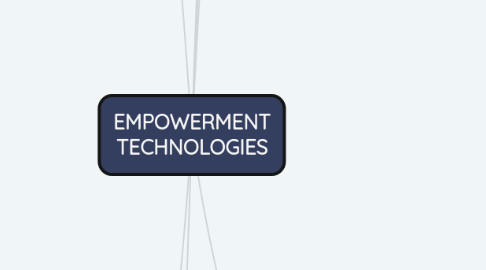 1. HOVER THE MOUSE POINTER OVER THE TOP OR BOTTOM OF AN EXISTING ELEMENT UNTIL THE ADD ELEMENT APPEARS
2. CREATING A WEBSITE USING MICROSOFT WORD
2.1. CREATE AN ACCOUNT
2.2. TYPE ANYTHING ON THE PAGE
2.3. CLICK ON FILE > SAVE AS > BROWSE
2.4. ON THE SAVE AS DIALOG BOX, LOCATE YOUR ACTIVITIES FOLDER & CREATE A NEW FOLDER
2.5. SPECIFY THE FILE NAME
2.6. ON THE SAVE AS, SELECT "WEB PAGE (*.htm;*.html)."
2.7. CLICK THE CHANGE TITLE BUTTON
2.8. INPUT THE TITLE, THEN CLICK OK THEN SAVE
2.9. CHECK THE FILES ON YOUR SAMPLE WEB PAGE FOLDER
2.10. OPEN THE SAMPLE WEB PAGE.HTM FILE
3. WHAT YOU SEE IS WHAT YOU GET (WYSIWYG)
3.1. THIS MEANS THAT WHATEVER YOU TYPE, INSERT, DRAW, PLACE, REARRANGE, AND EVERYTHING YOU DO ON A PAGE IS WHAT THE AUDIENCE WILL SEE.
4. ONLINE PLATFORMS FOR ICT CONTENT DEVELOPMENT
4.1. SOCIAL MEDIA PLATFORMS
4.1.1. WEBSITE LIKE FACEBOOK ALLOW YOU TO CREATE NOT ONLY PERSONAL ACCOUNTS BUT ALSO PAGES & GROUPS WHERE YOU CAN SHARE CONTENT.
4.1.2. LinkedIn IS ANOTHER EXAMPLE OF A SOCIAL NETWORKING SITE WHERE ITS FOCUS IS ON BUSINESS & PROFESSIONAL NETWORKING.
4.2. YOU WILL BE DIRECTED TO A PAGE WHERE YOU CAN EDIT YOUR WEBSITE.
4.3. BLOGGING PLATFORMS
4.3.1. EX. WORDPRESS, TUMBLR, AND BLOGGER FOCUS ON CONTENT & DESIGN.
4.3.2. CONTENT MANAGEMENT SYSTEM (CMS)
4.3.2.1. CMS IS USED IN BLOGS, NEW WEBSITES AND SHOPPING.
4.3.3. CREATING YOUR OWN BLOG USING WORDPRESS
4.3.3.1. SIGN UP BY VISITING https://wordpress.com/.
4.3.3.2. CLICK REGISTER ANOTHER BLOG UNDER MY BLOGS IN THE DASHBOARD
4.3.3.3. PICK A BLOG ADDRESS. NAME YOUR BLOG THEN CLICK CREATE BLOG.
4.3.3.4. CHOOSE APPEARANCE > THEMES
4.3.3.5. ON THE THEME PAGE, SELECT FREE TO FILTER OUT THE PAID THEMES.
4.3.3.6. SELECT ANY THEME YOU WANT, THEN CLICK ACTIVATE.
4.3.3.7. ONCE THIS DIALOG BOX APPEARS, CLICK CUSTOMIZE YOUR SITE
4.3.3.8. ONCE DONE, CLICK SAVE.
4.3.4. POSTING ON YOUR WORDPRESS BLOG
4.3.4.1. GO TO POSTS > ADD NEW
4.3.4.2. TYPE A LITTLE, CUSTOMIZE THE URL, THEN POST IN THE EDITOR
4.3.4.3. COMPOSE A WELCOME MESSAGE FOR YOUR FUTURE READERS WITH A MINIMUM OF 100 WORDS.
4.3.4.4. CLICK ON CHANGE YOUR BLOG DESCRIPTION OR PERMISSIONS.
4.3.4.5. KEEP IT ON STANDARD.
4.3.4.6. ADD TAGS SO THAT OTHERS CAN EASILY SEARCH YOUR POSTS USING THE TAGS YOU SPECIFIED.
4.3.4.7. ONCE DONE, CLICK ON PUBLISH TO POST IT ON YOUR WEBSITE
4.3.4.8. SUBMIT THE URL OF YOUR WEBSITE.
4.3.5. CLOUD COMPUTING
4.3.5.1. ARE THOSE THAT DO NOT NEED ANY INSTALLATION AND ARE READILY AVAILABLE OVER THE INTERNET.
4.3.5.1.1. SAVES HARD DISK SPACE
4.3.5.2. ADVANTAGES
4.3.5.2.1. NO NEED TO INSTALL
4.3.5.2.2. EASY ACCESS TO YOUR SOFTWARE/FILES
4.3.5.2.3. SAVES YOU MONEY FROM BUYING SOFTWARE LICENSES AND ADDITIONAL HARD DISK SPACE
4.3.5.2.4. NO NEED TO UPDATE BECAUSE IT UPDATES AUTOMATICALLY
4.3.5.2.5. MINIMUM SYSTEM REQUIREMENTS
4.3.5.2.6. BACK UP & DATA RECOVERY ARE RELATIVELY EASIER THAN ON A PHYSICAL DEVICE
4.3.5.3. DISADVANTAGES
4.3.5.3.1. CAN BE HAMPERED DOWN BY SLOW INTERNET SPEED
4.3.5.3.2. MAY STILL REQUIRE COMPATIBLE SOFTWARE LIKE A BROWSER
4.3.5.3.3. YOUDO NOT OWN THE SOFTWARE
4.3.5.3.4. SECURITY RISK
4.3.5.3.5. MORE PRONE TO HACKING
4.3.5.3.6. LIMITED CONTROL OVER THE INFRASTRUCTURE ITSELF
5. COLLABORATIVE ICT DEVELOPMENT
5.1. WEB PORTALS
5.1.1. A WEBSITE THAT CONTAINS INFORMATION FROM DIFFERERENT SOURCES AND PLACES THEM IN ONE LOCATION IN A UNIFORM WAY.
5.1.1.1. YAHOO.COM OFFERS A WEB PORTAL
5.2. ONLINE COLLABORATIVE TOOLS
5.2.1. THESE TOOLS CAN HELP YOUR GROUP "GO THE DISTANCE"
5.2.2. FACEBOOK
5.2.3. WORDPRESS
5.2.4. GOOGLE DRIVE & MICROSOFT OFFICE
5.2.5. MICROSOFT'S YAMMER
5.2.6. TRELLO
5.2.6.1. CREATE TRELLO ACCOUNT
5.2.6.2. CLICK ON CREATE A NEW ORGANIZATION
5.2.6.3. FILL OUT THE INFORMATION. AFTERWARD, CLICK CREATE
5.2.6.4. TO ADD MEMBERS, CLICK ON THE MEMBERS TAB
5.2.6.5. CLICK ON THE ADD MEMBERS BUTTON
5.2.6.6. CLCIK ON CREATE NEW BOARD
5.2.6.7. CLICK A NEW BOARD FOR THE TASK NAMED JIMDO SITE
5.2.6.8. CLICK ON ADD A LIST TO ADD TASKS TO BE DONE BY YOUR GROUP
5.2.6.9. ADD A CARD UNDER THIS WITH THE LABEL CONTAINING A DESCRIPTION
5.2.6.10. CLICK THE DOWN ARROW ON THE LOWER RIGHT TO VIEW MORE OPTIONS
5.2.6.10.1. MEMBERS
5.2.6.10.2. LABELS
5.2.6.10.3. POSITION
5.2.6.11. CLICK ON THE CARD ITSELF TO BRING UP MORE OPTIONS
5.2.6.12. YOU CAN USE THE OPTIONS ON THE RIGHT TO ADD MEMBERS, EDIT, PUT A CHECKLIST, ADD A DUE DATE & ATTACHMENT
5.2.6.13. MAKE SURE ALL TASKS ARE COVERED
5.2.6.14. CLICK ON THE CARD ITSELF TO BRING UP MORE OPTIONS
6. INTERACTIVE MULTIMEDIA
6.1. MULTIMEDIA CONTENT
6.1.1. VIDEOS
6.1.2. SOUND, MUSIC, OR AUDIO
6.1.3. ONLINE GAMES
6.1.4. ONLINE TESTS
6.1.5. COURSEWARE
6.1.6. PODCASTS
6.1.7. VODCASTS
6.2. INSERTING YOUTUBE VIDEOS ON YOUR BLOG POST
6.2.1. SEARCH ANY OPM SONGS OF YOUR CHOICE ON YOUTUBE.COM
6.2.2. CLICK THE SHARE BUTTON
6.2.3. CLICK ON EMBED
6.2.4. COPY THE CODE
6.2.5. CLICK ON THE TEXT TAB
6.2.6. PASTE YOUR CODE
6.2.7. GO BACK TO THE VISUAL TAB & ADD TEXT CONTENT
6.2.8. PREVIEW THEN PUBLISH THE CONTENT
7. BASIC WEB PAGE CREATION
7.1. HYPERTEXT MARKUP LANGUAGE ( HTML)
7.2. CASCADING STYLE SHEETS (CCS)
7.2.1. CODES TO DESIGN THEM
7.3. CREATING YOUR OWN WEBSITE USING JIMDO
7.3.1. JIMDO IS A WYSIWYG WEB HOSTING SERVICE.
7.3.2. CREATE AN ACCOUNT ON JIMDO
7.3.3. CHOOSE A TEMPLATE
7.3.4. CHOOSE A URL FOR YOUR WEBSITE
7.3.5. YOUR WEBSITE WILL BE GENERATED & YOU WILL END UP IN THE SITE'S WYSISWYG EDITOR
7.3.6. THE CENTER SHOWS THE PREVIEW OF YOUR WEBSITE
7.3.7. WYSIWYG EDITOR : THE SITE NAVIGATOR CONTAINS A SET OF LINKS GOING THROUGH THE DIFFERENT PAGES OF YOUR WEBSITE. THE NAVIGATOR CURRENTLY AVAILABLE TO YOU DEPENDS ON WHICH TEMPLATE YOU USED.
7.3.7.1. INSERTING A PAGE
7.3.7.1.1. HOVER YOUR MOUSE POINTER OVER THE SITE NAVIGATOR. THE EDIT NAVIGATION BUTTON WILL APPEAR
7.3.7.1.2. CLICK ON THE EDIT NAVIGATION BUTTON
7.3.7.1.3. REARRANGE PAGES USING THE TOOLS ON THE RIGHT OF THE PAGE TITLE
7.3.7.1.4. CLICK SAVE WHEN DONE
7.3.7.2. EDITING ELEMENTS
7.3.7.2.1. MOVE ELEMENT UP
7.3.7.2.2. MOVE ELEMENT DOWN
7.3.7.2.3. DELETE ELEMENT
7.3.7.2.4. COPY ELEMENT
7.3.7.2.5. DRAG TOOL
7.3.7.2.6. MORE OPTIONS REGARDING ON WHAT VISUAL ELEMENT YOU CLICKED
7.3.7.3. CODES TO CREATE PAGES
7.3.7.4. ADDING ELEMENTS
7.3.7.4.1. SELECT THE VISUAL ELEMENT YOU WANT TO ADD
7.3.7.4.2. EDIT THE ELEMENT, THEN CLICK SAVE
7.3.7.5. SITE SETTINGS
7.3.7.5.1. TEMPLATES
7.3.7.5.2. STYLE
7.3.7.5.3. BLOG
7.3.7.5.4. UPGRADE
7.3.7.5.5. SETTINGS
7.3.7.5.6. SEO
7.3.7.5.7. STORE
7.3.7.5.8. STATISTICS
7.3.7.5.9. HELP
7.3.7.6. SETTINGS
7.3.7.6.1. CONTAINS IMPORTANT INFORMATION
7.3.7.6.2. ACCOUNT SETTINGS
7.3.7.6.3. WEBSITE
7.3.7.6.4. MOBILE SETTINGS
7.3.7.6.5. EMAIL & DOMAIN MANAGEMENT
7.3.7.6.6. STORE SETTINGS
7.3.7.6.7. SEO OPTION
7.3.7.6.8. APPS OPTION
7.3.7.6.9. JIMDO SETTINGS
7.3.7.6.10. ONCE YOU DONE EDITING THE SETTINGS, GO TO YOUR SITE'S URL USING A BROWSER OF YOUR CHOICE