A nurse in a senior retirement home provides, Rod, a 82 year old man, information about cardiovascular disease after he informs her that he has been having chest pains and is gaining weight rapidly.
by Allysa Fosler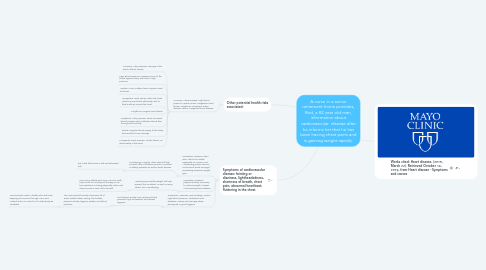 1. Other potential health risks associated:
1.1. Coronary Artery Disease, high blood pressure, cardiac arrest, congestive heart failure, arrhythmia, peripheral artery disease, stroke, congenital heart disease
1.1.1. Coronary Artery Disease: damage in the heart's blood vessels
1.1.2. High Blood Pressure: excessive force of the blood against artery wall due to high pressure
1.1.3. Cardiac Arrest: sudden loss of proper heart functions
1.1.4. Congestive Heart Failure: when the heart doesn't pump blood effectively due to fluid build up around the heart
1.1.5. Arrhythmia: irregular heart beats
1.1.6. Peripheral Artery Disease: when narrowed blood vessels reduce effective blood flow throughout the body
1.1.7. Stroke: irregular blood supply to the body that results in brain damage
1.1.8. Congenital Heart Disease: a birth defect; an abnormality in the heart
2. Symptoms of cardiovascular disease: fainting or dizziness, lightheadedness, shortness of breath, chest pain, abnormal heartbeat, fluttering in the chest
2.1. Prevention measure: clean diet: vital to his health, especially as a senior man. Maintaining proper vitamin and mineral levels amongst preventing excessive weight gain
2.1.1. Maintaining a regular, clean diet will help prevent other conditions prone to manifest in elderly patients, as well as heart disease
2.1.1.1. Eat a diet that is low in salt and saturated fats
2.2. Prevention measure: physical activity: necessary to reduce weight in hopes of preventing heart disease
2.2.1. Maintaining a healthy weight will help prevent this condition, as well as many others, from manifesting
2.2.1.1. Since he is elderly and uses a cane to walk, help enroll him in physical therapy, so he has assistance in being physically active and doesn't pose a new risk to himself.
2.3. Prevention Measures: quit smoking, control high blood pressure, cholesterol and diabetes, reduce and manage stress, participate in good hygiene
2.3.1. Rod doesn't smoke, has mediocre blood pressure, high cholesterol, and decent hygiene.
2.3.1.1. The nurse should actively document all of Rod's health habits; eating, fluid intake, physical activity, hygiene uptake, and blood pressure.
2.3.1.1.1. Nurse should create a health plan with Rod, keeping into account his age, race, and cultural status in order for it to effectively be inhabited.
3. Works cited: Heart disease. (2018, March 22). Retrieved October 14, 2019, from Heart disease - Symptoms and causes