INTERNAL ALIGNMENT
by Lazu Ahmed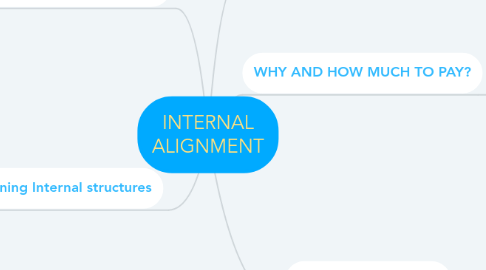 1. type of pay structures
1.1. internal pay structure can be segregate NUMBER OF LEVEL OF WORKS,PAY DIFFERENT BETWEEN THE LEVEL , DIFFERENTIALS AND THE CRITERIA.
1.1.1. 1.Pay structure should be hierarchical
1.1.2. 2.Among all level pay difference should be exist.
1.1.3. 3. criteria
1.1.3.1. content AND VALUE
1.1.3.1.1. how the job is done? How much skill and knowledge is necessary?
1.1.3.1.2. Value refers to the worth of the work
2. it IS ALSO CALLED INTERNAL EQUITY.
2.1. PAY RELATIONSHIPS AMONG DIFFERENT JOBS/SKILL/COMPETENCIES WITHIN SINGLE ORGANISATION
3. WHY AND HOW MUCH TO PAY?
3.1. Support organisation policy
3.1.1. work should be performed for company's policy for researching,designing,and developing system.
3.2. support work flow
3.2.1. it is a process by which goods and services are delivered to customer. example investment advice and product services.
3.3. to motivate beheviour
3.3.1. pay increase for poromotion
4. shapes of internal structure
4.1. organisation factors
4.1.1. Strategy, Technology, Human capital,HR policy, Employee acceptance and cost implications
4.2. Internal structure
4.2.1. levels, differentials and criteria
4.3. External factors
4.3.1. Economic pressure,government policy,laws regulations. stakeholders, cultures and customs.
5. Designing Internal structures
5.1. Tailored versus Loosely coupled
5.1.1. 1. a low-cost, customer focused business strategy. like fast food shops, supermarket.2.business for constant innovation, short product-design-to-market cycle time,ad-hock business like Sony, microsft.
5.2. Egalitarian versus Hierarchical
5.2.1. 1. Egalitarian structures have fewer levels and smaller differentials between adjacent levels and between the highest and lowest paid workers like in japan. 2. Hierarchical models has many levels from top to bottom. It will include details description of work done at each level and who is responsible for what.