SOCIAL HIERARCHY
by - VIDUSHI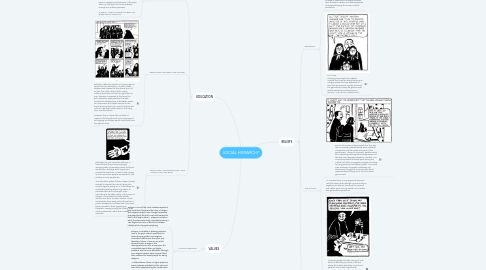 1. BELIEFS
1.1. RELIGIOUS
1.1.1. Change in importance of religious beliefs have caused an uproar and disarrangement of society following the Iranian Cultural Revolution.
1.1.2. EXAMPLE showing how people were able to re-write their lives for simply believing in a higher power that was expected of from the government, and by favouring the government's way, the government would reward by providing special services - THEME OF CORRUPTION
1.2. COMMUNAL
1.2.1. Due to the Iranian Cultural Revolution, the way the community's shared beliefs were suddenly changed to suit the needs and wants of the government. Where at one point, people would be in liberating clothing almost every second of the day, now, they were draped in chadors. The community started to break apart during the cultural revolution as people changed according to the government at different paces. There was clear confusion as people's attitudes and behaviours changed to accommodate these required/desired things from the new Islamic government.
1.2.2. At a surface level, it may appear that people could be losing their strength of community as togetherness may be sacrificed for personal and selfish gains such as wealth, social status and government protection.
1.2.3. However, people are also coming at such times of difficulty and chaos in the war where the military has taken control and people have to work together by supporting each other to get out of the situation, e.g. helping create fake passports and documents to escape war in Iran.
1.3. GOVERNMENT
2. VALUES
2.1. VALUE OF RELIGION
2.1.1. Religion is one of the most valuable aspects of post revolution life where the value of religion and religious people have changed massively as evident from the shift in societal hierarchies due to the large cultural + religious revolution which transformed society completely, taking a 180 degree turn from a liberal and western lifestyle which changed everything.
2.1.2. Religion is valuable in defining people's lives in the post cultural revolution era where they're gender and religious orientation determines their jobs, and therefore, futures. It was an era which allowed drastic change in the demographics of Iran's economy as the unqualified would often get higher positions and the more qualified, although non-religious people were removed from their positions to award people for being religious. As stated above, those in higher positions weren't always qualified for their jobs and were often supported by the conservative government/military as due to corruption, large medical businesses were controlled by the unqualified, who were in turn controlled by the government. There was no promotion of true religion taking place as greed and selfishness of possessing more power through economic means.
3. EDUCATION
3.1. EDUCATION AND STATUS POST IRANIAN CULTURAL REVOLUTION
3.1.1. Education had lost almost all importance in the community as the military forced change towards a conservative society from the Liberal and western one during The Shah's time. Religion and religious studies were what employment and society was based on, rather than education and careers as often high level jobs were offered to those who believed and advocated Islam. They had to have no experience whatsoever in the work field, nor did they have to be qualified enough to suit these positions. EVIDENT WHEN WASHERMAN BECAME DIRECTOR OF HOSPITAL.
3.2. EDUCATION FOR GIRLS AND WOMEN
3.2.1. Education differs for women and young girls in schools as their education is made of more religious and relevant to their home land. Of course, this is the impact of the Iranian Cultural Revolution and will be applicable to men, however, compared to the boys, the girls' education style would be less well rounded and shape them to be better assets as conservative and helpful women of the house learning about Iran and the history and culture to be even better assets in the living room and the kitchen. However, they're denied the smallest of aspects schooling life such as running around and playing as children would and should have the right to do so.
3.3. EDUCATION AND PROPAGANDA FOR YOUNG MEN AND BOYS
3.3.1. Education for men would be different in terms of what they are being taught, assuming with conservative ideals, the focus would be on building skills, logical and practical to help them in work or the military as more and more people are needed in the military as more people die. The education system follows religion closely enough to support the idea of going into army at ages as young as 12. These boys are seduced by the key which is symbolic of paradise which will be brought upon submitting to the state-nation in the name of religion. This paradise includes wealth, women and 'wine' or other luxuries. These materialistic items easily attract those from a poorer background or those who have never been exposed to these growing up, therefore, viewing joining the military as an exciting adventure rather than a death sentence.