THE ROLE OF FAMILY IN SOCIETY 👪
by Julieth Ruano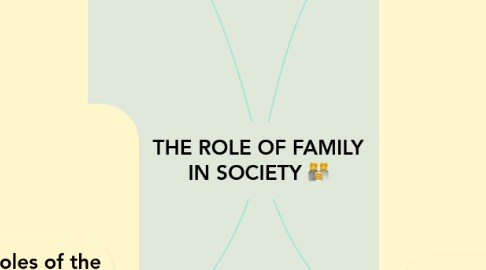 1. Society Base 🗣
1.1. A man o woman marry and form a family.
1.2. Everyone is estructure with the same pattern.
1.3. Multiple families form:
1.3.1. Towns
1.3.2. Regions
1.3.3. Countries
1.3.4. Continents
1.3.5. The world
1.4. The family is the fundamental pilar of the society.
2. Protection and Unit 👥
2.1. In the family. Parents must build safe relationships with their children.
2.2. The family is synonymous with unity.
2.3. If this feeling of "family"is transmitted to each person.
2.4. A united family is a protected family.
3. Love Model ❤️
3.1. Love for the children.
3.1.1. Provide protection and security to the children.
3.1.2. Parents are for example for their children.
3.1.3. The family is the main role.
3.1.4. The children watch and learn.
3.2. The family is model of love between husband and wife.
3.3. Love to promote moral values.
3.4. Love builds a good social model.
4. The roles of the family👪
4.1. Educate children with moral values.
4.2. Parents must show love towards their children by spending time with them.
4.3. Be a good model for society
4.4. Having the capacity and responsability to impact the entire society by its positive example.