DIDACTIC MATERIALS 1ST MIND-TERM
by LISSET SARAI PEREZ CEJA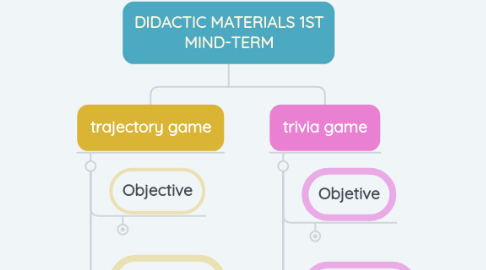 1. trivia game
1.1. Objetive
1.1.1. Students can use this game for differents purposes:
1.1.2. - taste their knowledge
1.1.3. - review the topics
1.1.4. - learning by playing
1.2. Description
1.2.1. Students answer multiple option questions
1.2.2. choose the answer
1.2.3. Choose the correct answer from 4 options
1.2.4. Answer all questions correctly to pass the level
1.2.5. Each level corresponds to a theme
1.2.6. Pass all levels to win
1.3. Advantages
1.3.1. -Help students to recall topics
1.3.2. -It is a way to motivate students
1.3.3. -it is a tool for teachers to create dynamic classes
1.4. Disadvantages
1.4.1. -Use the game takes time
1.4.2. -Only can be used for 5 topics
1.4.3. - only can be used in the computer
2. trajectory game
2.1. Objective
2.1.1. This game was created for primary school students, the objective is to make students feel:
2.1.2. engaged
2.1.2.1. motivated
2.2. Description
2.2.1. students use their pulse
2.2.2. game challenges the student to help the character of the game get their food.
2.2.3. follows the path of the line without leaving or touching the borders of it.
2.2.4. As the student progresses, the difficulty increases.
2.2.5. to win is necessary to pass all levels.
2.3. Advantages
2.3.1. It can be use it as a warm-up
2.3.2. It's a way to include technology in the class
2.3.3. Classes can be more fun
2.3.4. It can be used as a prize/ reward
2.4. Disadvantages
2.4.1. Can take a lot of time
2.4.2. It only can be use by one student